JCK Las Vegas "returns to its roots" in 2019
September 5, 2018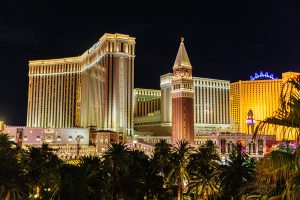 Dates have been decided for the 2019 edition of JCK Las Vegas[2]. The annual show will continue abiding by its traditional weekend date pattern next year, running from Friday, May 31 to Monday, June 3. It will also return to the Sands Expo & the Venetian[3] after spending eight years at Mandalay Bay Resort & Casino[4].
"We have invested a lot of time and resources in gathering feedback from our customers. We have heard your preferences, to return to both the Sands Expo & the Venetian and our traditional date pattern. Based on your feedback, we have spent the past few months negotiating to secure these dates," said Yancy Weinrich, JCK's senior vice-president. "We are thrilled to be able to deliver, and are as excited as ever for, the show. While it marks the return to our roots, it is also a fresh beginning."
The feedback Weinrich mentions was gathered from a variety of sources, including retail store and customer visits by JCK staff, digital surveys, and work by the JCK and Luxury advisory boards. It was used to determine not only the dates and location, but also new features such as a gemstone pavilion[5].
JCK is not the only event bound for Vegas at the beginning of June. The Luxury[6] and JIS Exchange[7] shows will also be open that week, with JIS Exchange opening May 30 and closing June 3. Luxury will be open by invitation only on May 29 and 30, then welcome all JCK attendees from May 31 to June 3.
Endnotes:
[Image]: https://www.jewellerybusiness.com/wp-content/uploads/2018/09/bigstock-Las-Vegas-Nv-August-242177527.jpg
JCK Las Vegas: http://lasvegas.jckonline.com/
Sands Expo & the Venetian: https://www.venetian.com/meetings/
Mandalay Bay Resort & Casino: https://www.mandalaybay.com/en.html
gemstone pavilion: https://www.jewellerybusiness.com/news/showcasing-coloured-gems-jck-las-vegas/
Luxury: https://luxury.jckonline.com/
JIS Exchange: http://www.jisshow.com/Exchange/
Source URL: https://www.jewellerybusiness.com/news/jck-las-vegas-returns-to-its-roots-in-2019/
---