Major Hong Kong jewellery shows to kick off next week
February 22, 2018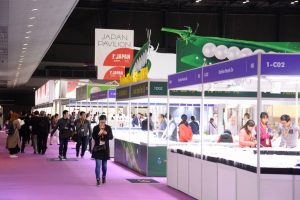 Two major jewellery trade shows organized by the Hong Kong Trade Development Council[2] (HKTDC) will open next week. The fifth Hong Kong International Diamond, Gem and Pearl Show[3], which focuses on loose stones and raw materials for jewellery, will be held from February 27 to March 3 at AsiaWorld-Expo[4]. The 35th Hong Kong International Jewellery Show[5], which showcases finished jewellery, will take place March 1 to 5 at the Hong Kong Convention and Exhibition Centre[6] (HKCEC).
The two shows will feature a record number of more than 4550 exhibitors from 50 countries and regions, forming the world's largest jewellery marketplace. HKTDC will also organize 115 buying missions comprising more than 8000 companies from 75 countries and regions.
"The strong participation of exhibitors and buying missions at the shows reflects that the industry remains cautiously optimistic about business prospects, and continues to view Hong Kong as an important sourcing platform for jewellery and raw materials," said Benjamin Chau, acting executive director of HKTDC.
Both shows continue to attract industry organizations from across the world, which will set up 34 group pavilions. Special product zones at the Diamond, Gem and Pearl Show will include the Hall of Fine Diamonds, the Treasures of Nature, and the Treasures of Ocean, with theme zones at the Jewellery Show comprising the Hall of Fame, Hall of Extraordinary, and Designer Galleria.
The Jewellery Show will also feature an all-new 'IT Solutions for Jewellery' zone, showcasing the latest technology and solutions for inventory management, design, production, and e-commerce advancement. A seminar on jewellery technology will be held on March 2.
Highlight events during the two shows include jewellery parades, buyer and exhibitor forums, and a cocktail reception and gala dinner on March 1, with the theme of 'Roman Constellation.' HKTDC also plans to display winning pieces from the 19th Hong Kong Jewellery Design Competition[7] at the Jewellery Show.
For more details or to register, visit the Diamond, Gem and Pearl Show[8] and Jewellery Show[9] websites.
Endnotes:
[Image]: https://www.jewellerybusiness.com/wp-content/uploads/2018/02/OAY_4170.jpg
Hong Kong Trade Development Council: http://www.hktdc.com/en-buyer/
Hong Kong International Diamond, Gem and Pearl Show: http://event.hktdc.com/fair/hkdgp-en/HKTDC-Hong-Kong-International-Diamond-Gem-Pearl-Show.html
AsiaWorld-Expo: https://www.asiaworld-expo.com/
Hong Kong International Jewellery Show: http://event.hktdc.com/fair/hkjewellery-en/HKTDC-Hong-Kong-International-Jewellery-Show.html
Hong Kong Convention and Exhibition Centre: https://www.hkcec.com/
Hong Kong Jewellery Design Competition: http://event.hktdc.com/fair/hkjewellery-en/s/5758-Other/HKTDC-Hong-Kong-International-Jewellery-Show/Hong-Kong-Jewellery-Design-Competition.html
Diamond, Gem and Pearl Show: http://event.hktdc.com/fair/hkdgp-en/HKTDC-Hong-Kong-International-Diamond--Gem---Pearl-Show.html
Jewellery Show: http://event.hktdc.com/fair/hkjewellery-en/HKTDC-Hong-Kong-International-Jewellery-Show.html
Source URL: https://www.jewellerybusiness.com/news/major-hong-kong-jewellery-shows-kick-off-next-week/
---