Montréal designer to be featured in New York exhibition
April 23, 2018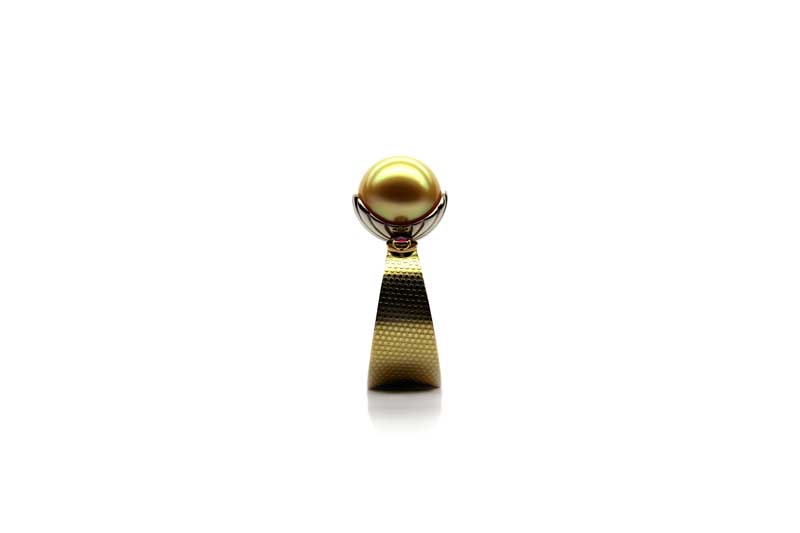 A piece crafted by Québécois designer Claudio Pino[2] will be included in the upcoming 'Pearls Redefined'[3] exhibition at New York's Aaron Faber Gallery[4]. For this creation, the Montréal jeweller—whose rings have appeared in films such as The Hunger Games—worked with pearls to reflect the themes of rebirth and the sea.
"Pearls are precious treasures fabricated by nature. Each pearl has its own tonality, shape, history, and poetry, which I love to explore," Pino told Jewellery Business in an exclusive interview. "Working with pearls is a privilege, so I try to pay homage to them and to the precious seas with my design."
The exhibition includes work from 30 young designers and will run from April 24 to May 19, with an opening reception scheduled for Thursday, April 26. Pino's contribution to the collection is a ring called 'Majestic Sunrise,' which features 22-karat gold, palladium, ruby, and—of course—a golden pearl.
"In the Majestic Sunrise ring, the shape of the band represents a powerful wave coloured by the warm sunrise, while the luminous pearl, standing out of the salty water, captures the sunlight," he said. "I honoured the pearls in my design by drawing out their uniqueness, poetry, and preciousness. This ring celebrates the sea, which unites all the continents into one."
~By Carly Midgley
Endnotes:
[Image]: https://www.jewellerybusiness.com/wp-content/uploads/2018/04/cp.jpg
Claudio Pino: http://pinodesign.net/
'Pearls Redefined': https://www.aaronfaber.com/pearls-in-the-spotlight-group-show/
Aaron Faber Gallery: https://www.aaronfaber.com/
Source URL: https://www.jewellerybusiness.com/news/montreal-designer-to-be-featured-in-new-york-exhibition/
---