Mountain Province offers Canadamark certification
May 29, 2018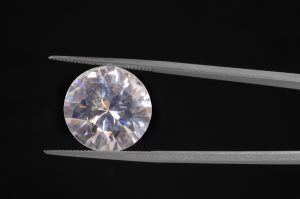 Toronto-based Mountain Province Diamonds[2] is employing a new initiative to help customers certify the origin of its diamonds. It has joined Dominion Diamond Mines'[3] Canadamark[4] program, which tracks diamonds throughout the supply chain to ensure they are not only Canadian, but also natural, untreated, and sustainably mined.
"Our customers can confidently demonstrate the Canadian provenance of their goods and use this to enhance and support their individual branding programs," said Reid Mackie, vice-president of diamond marketing for Mountain Province, which co-owns the Northwest Territories' Gahcho Kué[5] mine with De Beers Canada[6]. "The unique characteristics of the Gahcho Kué production will help broaden the range of certified Canadian goods available to consumers and consolidate market share of Canadian product under a consistent Canadian provenance standard."
The audited processes used in Canadamark certification are also intended to ensure the gems are polished to high quality and do not harm local communities.
Endnotes:
[Image]: https://www.jewellerybusiness.com/wp-content/uploads/2018/05/bigstock-Diamond-2749528.jpg
Mountain Province Diamonds: http://www.mountainprovince.com/
Dominion Diamond Mines': https://www.ddmines.com/
Canadamark: https://www.ddmines.com/canadamark/
Gahcho Kué: https://www.jewellerybusiness.com/news/new-kimberlite-pipe-enters-production-at-gahcho-kue/
De Beers Canada: https://www.debeersgroup.com/canada/en/index.html
Source URL: https://www.jewellerybusiness.com/news/mountain-province-offers-canadamark-certification/
---