New article series recognizes women in the diamond industry
by carly_midgley | March 8, 2018 2:08 pm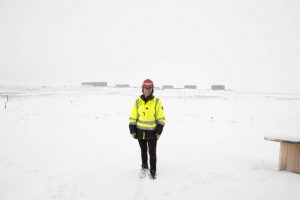 The Diamond Producers Association[2] (DPA) is celebrating International Women's Day[3] in a sparkling way. The group has released a series of articles written by and about women working in various sectors of the diamond business, from mining and manufacturing professionals to jewellery designers and retailers.
DPA's chief marketing officer, Deborah Marquardt, says the initiative is intended to commend the achievements of these women on a professional, economic, social, and cultural level.
"We embrace this year's theme, 'Press for Progress,' which calls on whole communities and industries to think, act, and be gender inclusive," said Marquardt. "Gender equity issues are also business issues, and the diamond industry directly and indirectly supports the livelihood of millions of women around the world."
The interviews feature:
Stefanie Loader[4], geologist and mining executive;
Kimi Balsillie[5], environmental officer at the Northwest Territories' Gahcho Kué[6] mine;
Lauren Priori[7], a jewellery designer based at L. Priori Jewelry[8] in Philadelphia;
Jennifer and Christina Gandia[9] of Manhattan retailer Greenwich St. Jewelers[10];
Tiffany Stevens[11], CEO of the nonprofit Jewelers Vigilance Committee[12];
Karen Rosengart[13], CEO and founder of wholesaler K. Rosengart[14]; and
Eve Goldberg[15], diamantaire.
The diverse voices of these women discuss many different aspects of the trade, from the economic opportunities inherent in the industry to the passion that drives jewellery design to advice for young, aspiring entrepreneurs. All are available on DPA's 'Stories Behind the Brilliance of Diamonds[16]' platform.
Endnotes:
[Image]: https://www.jewellerybusiness.com/wp-content/uploads/2018/03/TbrandxDPA-Canada-1278-KR.jpg
Diamond Producers Association: http://www.diamondproducers.com/
International Women's Day: https://www.internationalwomensday.com/
Stefanie Loader: https://medium.com/diamondproducersassociation/from-mine-to-market-women-play-an-integral-role-in-the-journey-of-a-diamond-88dae78ccc8f
Kimi Balsillie: https://medium.com/diamondproducersassociation/q-a-with-kimi-basillie-gahcho-ku%C3%A9-environmental-officer-dc53e66e7add
Gahcho Kué: https://www.jewellerybusiness.com/news/gahcho-kue-mine-opens-today/
Lauren Priori: https://medium.com/diamondproducersassociation/the-best-day-of-someones-life-662c156e594e
L. Priori Jewelry: https://www.lpriorijewelry.com/
Jennifer and Christina Gandia: https://medium.com/diamondproducersassociation/how-a-passion-for-diamonds-and-sisterly-inspiration-transformed-this-new-york-family-jeweler-6caf7fe62762
Greenwich St. Jewelers: https://www.greenwichjewelers.com/
Tiffany Stevens: https://medium.com/diamondproducersassociation/leadership-lessons-by-tiffany-stevens-b71dda096d94
Jewelers Vigilance Committee: https://www.jvclegal.org/
Karen Rosengart: https://medium.com/diamondproducersassociation/q-a-with-karen-rosengart-4776ede2a36a
K. Rosengart: https://krosengart.com/
Eve Goldberg: https://medium.com/diamondproducersassociation/elevating-the-next-generation-of-female-diamantaires-e1ff15decd6d
Stories Behind the Brilliance of Diamonds: https://medium.com/diamondproducersassociation
Source URL: https://www.jewellerybusiness.com/news/new-article-series-recognizes-women-diamond-industry/
---