New program tracks origin of gold and diamond rings
April 27, 2018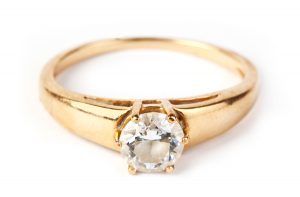 IBM[2] has teamed up with five industry bodies to introduce a new ethical sourcing program. Called the TrustChain Initiative[3], this blockchain project combines IBM technology with transparency efforts from Asahi Refining[4], Helzberg Diamonds[5], LeachGarner[6], Richline Group, and Underwriters Laboratories[7] (UL).
The system will use digital and physical verification processes to track six diamond and gold engagement ring styles across the supply chain, following their path from miners to manufacturers to wholesalers to retailers—and making that information available to participants.
"Consumers care deeply about the quality and source of the jewellery they purchase. This is evidenced by the fact 66 per cent of consumers[8] globally are willing to spend more to support sustainable brands," said Bridget van Kralingen, senior vice-president of global industries, platforms, and blockchain for IBM. "TrustChain is an example of how blockchain is transforming industries through transparency and viable new business models that specifically benefit the consumer."
The goal of the program is to use accessible documentation to promote trust in the origin of jewellery, offer quality assurance, and encourage responsible practices and authenticity.
"This initiative is important for our industry as we seek to raise the collective responsibility and provenance practices to new heights," said Mark Hanna, chief marketing officer of Richline Group. "TrustChain is designed as a solution that marries IBM's blockchain technology with responsible sourcing, verification, and governance by third-party organizations, led by UL as the administrator."
Endnotes:
[Image]: https://www.jewellerybusiness.com/wp-content/uploads/2018/04/bigstock-One-old-gold-rind-with-diamant-23246195.jpg
IBM: https://www.ibm.com/ca-en/
TrustChain Initiative: https://www.trustchainjewelry.com/
Asahi Refining: http://www.asahirefining.com/
Helzberg Diamonds: https://www.helzberg.com/
LeachGarner: http://www.leachgarner.com/lg/home.aspx
Underwriters Laboratories: https://www.ul.com/
66 per cent of consumers: http://www.nielsen.com/us/en/insights/reports/2015/the-sustainability-imperative.html?afflt=ntrt15340001&afflt_uid=xs0z0dLJHLc.GOEUJSPAhmOA-C4DduCS22IdITqzsbrl&afflt_uid_2=AFFLT_ID_2
Source URL: https://www.jewellerybusiness.com/news/new-program-tracks-origin-of-gold-and-diamond-rings/
---