Ontario gold mine breaks ground
October 29, 2021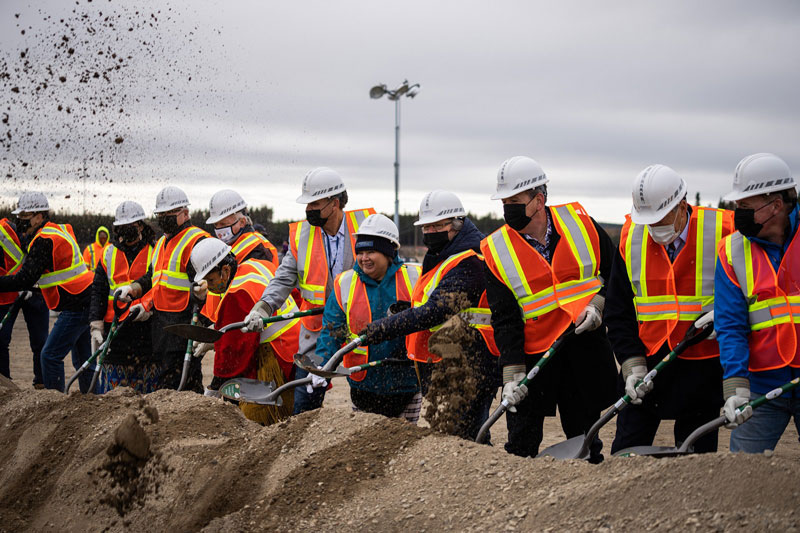 A Canadian mining site expected to produce more than five million ounces of gold has broken ground in Geraldton, Ont.
Located approximately 275 km northeast of Thunder Bay, Greenstone Mine is being developed as a 60/40 partnership, respectively, by Equinox Gold and Orion Mine Finance Group. The project will cost approximately $1.53 billion (US$1.23 billion).
The site, which is predicted to produce more than 400,000 ounces of gold annually for the first five years, has a mine life of at least 14 years.
"Greenstone Mine is located in one of the world's best mining jurisdictions and will be a top-tier mine, producing more than 400,000 ounces of gold per year at all-in-sustaining costs in the lowest quartile of the industry," says Equinox Gold CEO, Christian Milau. "Greenstone Mine will be a cornerstone asset for Equinox Gold and a transformative project for Northern Ontario."
The mine will create 800 local and 1300 regional jobs during construction and another 500 during operations, Equinox Gold reports.
Additionally, the project has Long-term Relationship Agreements in place with five Indigenous groups: Animbiigoo Zaagi'igan Anishinaabek, Aroland First Nation, Ginoogaming First Nation, Long Lake #58 First Nation, and the Métis Nation of Ontario.
"Equinox Gold and the Greenstone Mine team have shown terrific leadership in working with Indigenous communities and with our government to get to this point—starting construction for a major project that will create jobs and bring prosperity to the region, and to every corner of our province," says Ontario Premier Doug Ford. "This world-class gold mine is an example of what we can accomplish when we come together and work towards a common goal."
Construction is expected to take two years with mining to begin in the last quarter of 2022, Equinox Gold reports.
Endnotes:
[Image]: https://www.jewellerybusiness.com/wp-content/uploads/2021/10/SA_EquinoxGold.jpg
Source URL: https://www.jewellerybusiness.com/news/ontario-gold-mine-breaks-ground/
---