Pantone: 2019 will be bright in Living Coral
December 6, 2018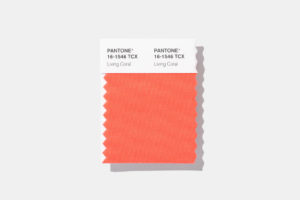 Warmth is the name of the game for Pantone Color Insitute[2]'s 2019 colour of the year. 'Living Coral,' a vibrant orange hue with tones of gold, has been selected for the energizing, optimistic, and playful spirit it invokes.
"Colour is an equalizing lens through which we experience our natural and digital realities and this is particularly true for Living Coral," said Leatrice Eisman, executive director of Pantone. "With consumers craving human interaction and social connection, the humanizing and heartening qualities displayed by the convivial Pantone Living Coral hit a responsive chord."
Pantone says the colour has strong potential to catch attention on and inject brightness into social media, fostering a feeling of intimacy and connectedness. It also echoes the natural shades of a coral reef, conjuring imagery of life and vibrancy.
The colour of the year was chosen by a group of experts who considered everything from current trends in entertainment, art, design, and travel to socio-economic conditions, new technological developments, and even sporting events.
"Colour enhances and influences the way we experience life. As a shade that affirms life through a dual role of energizing and nourishing, Pantone 16-1546 Living Coral reinforces how colours can embody our collective experience and reflect what is taking place in our global culture at a moment in time," said Laurie Pressman, Pantone's vice-president.
In fashion and design, Living Coral is said to encourage experimental, playful looks and bold, upbeat self-expression. It complements all skin tones and can be used in patterns, textures, and monochrome to evoke a sense of exploration or in simpler palettes to suggest positivity.
To celebrate the colour's selection, Pantone will be introducing a series of 'pop-up pantries' paying homage to Living Coral at Tribute Portfolio[3] hotels worldwide. The series is kicking off at Royal Palm South Beach Miami Resort[4] during Art Basel Miami[5] and will then continue on to Georgia's Alida Hotel[6] and the Slaak Rotterdam[7] in the Netherlands.
Endnotes:
[Image]: https://www.jewellerybusiness.com/wp-content/uploads/2018/12/Mini-Swatch.jpg
Pantone Color Insitute: https://www.pantone.com/
Tribute Portfolio: https://tribute-portfolio.marriott.com/
Royal Palm South Beach Miami Resort: https://www.royalpalmsouthbeach.com/
Art Basel Miami: https://www.artbasel.com/miami-beach
Alida Hotel: https://www.thealidahotel.com/
Slaak Rotterdam: http://odysseyhotels.nl/portfolio/tribute-collection-rotterdam/
Source URL: https://www.jewellerybusiness.com/news/pantone-2019-will-be-bright-in-living-coral/
---