Pink and yellow diamond prices lag behind blue
November 1, 2018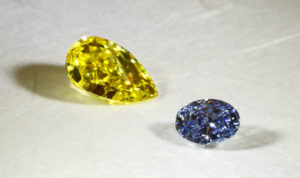 Blue diamonds are maintaining their status as the strongest performers in terms of fancy colour diamond price, according to the latest Fancy Color Diamond Index from the Fancy Color Research Foundation[2] (FCRF). Prices for diamonds of this colour rose 0.7 per cent in the third quarter of 2018 and 5.9 per cent year-over-year.
The index, which is based on pricing details collected for blue, pink, and yellow diamonds traded in Hong Kong, New York, and Tel Aviv, reveals fancy vivid blue diamonds are enjoying particularly strong success, experiencing an increase of 8.5 per cent year-over-year and 1.1 per cent between quarters.
Pink diamond prices remain relatively stable, with a 0.4 per cent increase for the quarter and a decrease of 0.5 per cent for the year. Yellow diamonds, however, saw overall decline, with prices dropping one per cent for the quarter and 1.6 per cent for the year.
"In my opinion, the price of fancy yellow is influenced by the general mood of many diamond traders that carry a mixed inventory of colourless and yellows," said Eden Rachminov, a member of FCRF's Advisory Board. "Due to the slowdown in the colourless business[3] and to compensate in their general turnover, these traders slightly lower the prices of yellows."
Particularly notable price variations between the colours were observed in the one-carat category, where pink diamonds' stability was contrasted with an increase of 4.7 per cent for blue diamonds and 2.2. per cent decrease for yellow. However, yellow diamonds also gleaned some positive results in this size category, with prices for one-carat intense yellows rising 1.1 per cent.
The overall index is displaying only minor changes, with FCRF reporting a cumulative price rise of 0.1 per cent for the quarter and 0.4 per cent for the year.
Endnotes:
[Image]: https://www.jewellerybusiness.com/wp-content/uploads/2018/11/001_8627-srce-cropped.jpg
Fancy Color Research Foundation: https://www.fcresearch.org/
slowdown in the colourless business: https://www.jewellerybusiness.com/news/price-declines-continue-in-diamond-market/
Source URL: https://www.jewellerybusiness.com/news/pink-and-yellow-diamond-prices-lag-behind-blue/
---