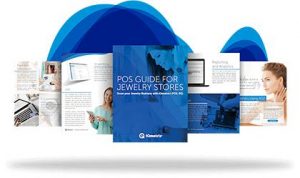 To do everything from providing ultra-personalized service to scheduling repairs, your jewellery store needs a point-of-sale (POS) system designed to help you with so much more than completing a transaction.
In iQmetrix's "POS Guide for Jewelry Stores," discover the tools you need to:
deliver amazing customer experiences;
be omnichannel ready;
sell across multiple locations; and
track and analyze performance for growth.
Download the "POS Guide for Jewelry Stores" to learn how RQ, iQmetrix's full-suite retail management system (RMS), powers more than 20,000 retail locations with the advanced POS features required to serve today's consumer.
All information listed in this section was submitted by iQmetrix.
Kenilworth Media Inc. cannot assume responsibility for errors of relevance,
fact or omission. The publisher does not endorse any products featured in this article.