Québécois jewellers interpret 'metamorphosis'
December 7, 2018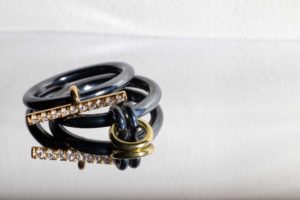 Canadian jewellery artists are exploring the theme of transformation in a new Toronto exhibit.
'Metamorphosis: From Raw to Refined[2]' opened at 18Karat Studio +Gallery[3] in early November and will run until the end of February. It features work from a trio of Québec-based jewellery designers: Lynn Légaré[4], Caroline Rivière[5] (one of this year's Saul Bell Design Award winners[6]), and Petra Luz[7].
Each designer is presenting a unique interpretation of the concept of metamorphosis and the constancy of change.
Légaré, for example, explores the shifts an artist's work undergoes as time passes, showcasing pieces done in her traditional style alongside a new collection that departs from the norm, called 'Axel-bis.'
"The 15 pieces in the 'Axel-bis' collection are an offshoot of a line of jewellery I created in 2017," said Légaré in an interview[8] with the gallery. "I specifically chose to refine my style, drawing inspiration from the origins of the minimalist movement."
Rivière's work reflects the theme in a more literal fashion. She offers pieces representative of her physical move from the South Pacific to Québec and her growth to adulthood. Luz's pieces, meanwhile, are inspired by river stones' slow transformation from rough to smooth.
To view the pieces in person, visit the gallery in Toronto's Rosedale neighbourhood.
Endnotes:
[Image]: https://www.jewellerybusiness.com/wp-content/uploads/2018/12/1.jpg
Metamorphosis: From Raw to Refined: http://www.18karat.ca/what-s-on-exhibitions
18Karat Studio +Gallery: http://www.18karat.ca/
Lynn Légaré: http://www.lynnlegare.com/home
Caroline Rivière: https://www.carolinerivierejoaillerie.com/
Saul Bell Design Award winners: https://www.jewellerybusiness.com/news/canadians-earn-top-honours-at-saul-bell-awards/
Petra Luz: http://www.petraluz.com/
interview: http://www.18karat.ca/artist-of-the-month-legare
Source URL: https://www.jewellerybusiness.com/news/quebecois-jewellers-interpret-metamorphosis/
---