Rio Tinto sells its largest pink diamond to date
November 9, 2018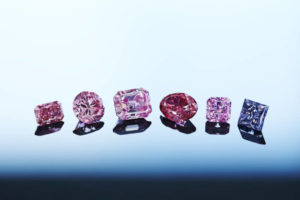 The results are in for Rio Tinto[2]'s Argyle Pink Diamonds Tender, which closed on October 10. In its latest edition (offering 63 rare pink, red, and violet diamonds from the Argyle mine in Australia), the sale is continuing on a streak of double-digit price growth.
"The 2018 Argyle Pink Diamonds Tender was highly sought after with record results that underscore the value of these gems in the history of rare coloured diamonds," said Arnaud Soirat, copper and diamonds chief executive for Rio Tinto.
The strong outcome was supported by the increasing rarity of Argyle diamonds as the mine approaches its end of life in 2020, as well as by the six 'hero' diamonds[3] headlining the tender. Among these stones is the 2.28-carat fancy purplish red 'Argyle Muse,' described by Rio Tinto as the most valuable diamond in the tender's history. This stone was sold to an undisclosed buyer.
Another of the sale's featured diamonds, the 3.14-carat vivid pink 'Argyle Alpha,' was recognized as the largest and most valuable pink diamond ever sold at the tender. For this gem, Singapore-based jeweller Glajz THG[4] was the winning bidder.
The 'Argyle Odyssey' hero diamond, a 2.08-carat fancy intense pink, went to Swiss dealer Gemcut Geneva. The company's chief executive, Matthew Aldridge, is a longtime bidder at the Argyle Pink Diamonds Tender, having regularly attended since 1987.
"As an avid collector of the world's finest fancy coloured diamonds, I was especially delighted to win the Argyle Odyssey, a match for another diamond that was sold in the tender over 15 years ago," said Aldridge.
Over the past 18 years, Rio Tinto reports the value of Argyle pink diamonds sold at this tender has appreciated more than 400 per cent.
Endnotes:
[Image]: https://www.jewellerybusiness.com/wp-content/uploads/2018/11/28469068687_f17eee910c_k.jpg
Rio Tinto: https://www.riotinto.com/
six 'hero' diamonds: https://www.jewellerybusiness.com/news/coloured-diamonds-break-size-records-for-rio-tinto-sale/
Glajz THG: http://www.glajz.com/
Source URL: https://www.jewellerybusiness.com/news/rio-tinto-sells-its-largest-pink-diamond-to-date/
---