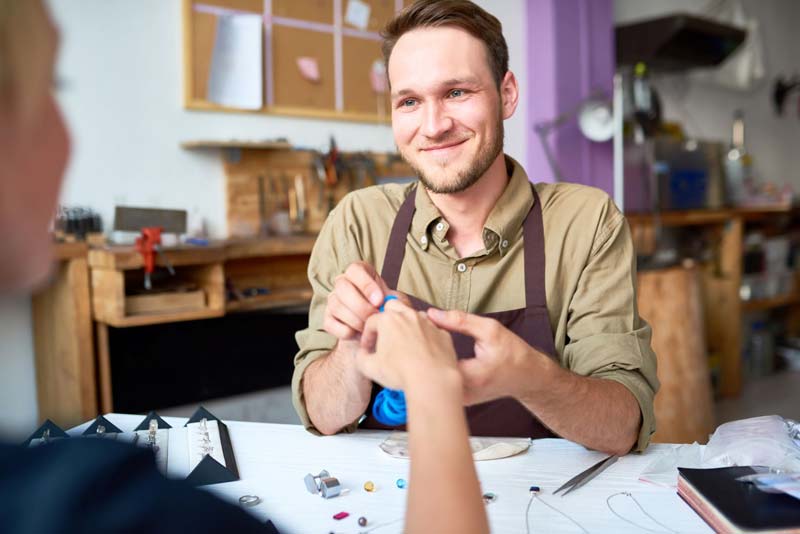 Your business is unique and so are the challenges you face. Experience Jewelers Mutual's consultative approach to learn about your business, develop customized risk management solutions, and implement revenue-generating programs to position you for prosperity.
Here is a glimpse of how Jewelers Mutual can help you.
Industry-leading business insurance
Protect your jewellery stock, business property, and exposure to various liabilities with a complete policy. Coverage starts at affordable rates and can be scaled as you grow.
Once you find a Jewelers Mutual broker, they will offer expert advice for choosing a policy that fits your needs and budget.
Jeweler's Cut®
Mention personal jewellery insurance to your customers and get paid for each qualifying description your customers provide Jewelers Mutual.* Plus, earn more on claim-related work.
You can also order free resources to share the value of personal jewellery insurance with your customers.**
Support for the entire industry
Jewelers Mutual has been supporting the jewellery industry for more than 100 years. Even if you do not use any of its products and services, Jewelers Mutual reinvests more than $70 million to the industry annually and sponsors more than 40 organizations and events for the betterment of jewellers everywhere.

Get the support you need for a stronger tomorrow. Visit Jewelers Mutual at JCK Las Vegas to learn first-hand why Jewelers Mutual is the right choice for you.
You may also contact a Jewelers Mutual sales manager directly by calling 800-336-5642 (ext. 2118) or e-mailing sales@jminsure.com.
* Jewellers are not licensed agents and cannot sell or offer advice about insurance coverage
** Personal jewellery insurance not available in Quebec
All information listed in this section was submitted by Jewelers Mutual Insurance Group.
Kenilworth Media Inc. cannot assume responsibility for errors of relevance,
fact or omission. The publisher does not endorse any products featured in this article.