Tiffany & Co. commits to transparent diamond sourcing
January 9, 2019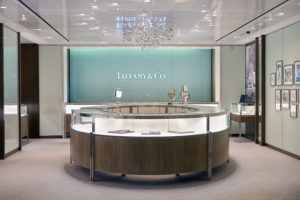 Today, Tiffany & Co.[2] launched a new policy aimed at verifying the provenance of its diamonds.
The 'Diamond Source Initiative' sets parameters exceeding those of the Kimberley Process (KP) to ensure customers are made aware of newly sourced, individually registered diamonds' region and country of origin.
This program—part of the brand's ongoing efforts to increase supply chain transparency—supports Tiffany's recent commitment to provide full geographic transparency for all such diamonds.
Beginning today, these diamonds' provenance details will be merchandised in love and engagement caselines and provided to customers by Tiffany staff. Displays will clearly highlight rings with individual provenance.
Further, the brand will no longer source diamonds with unknown provenance, regardless of any external assurances of responsible sourcing.
"Tiffany & Co. has long been committed to diamond traceability and going above and beyond industry norms to promote the protection of the environment and human rights," said Anisa Kamadoli Costa, chief sustainability officer for Tiffany & Co. "A transparent journey of responsible sourcing reflects the many positive and far-reaching benefits along every step of the diamond supply chain."
Going forward, polished stones will be required to comply with Tiffany's Diamond Source Warranty Protocol, which restricts sourcing to countries that do not present diamond-related human rights concerns.
Stones from responsibly managed mines in Canada, Botswana, Namibia, or South Africa will be designated 'Botswana sort.' Heritage gems that were sourced before the initiative launched will have their sourcing practices certified by Tiffany.
The company also aims to make production details, such as the location of the stone's cutting and polishing workshop, fully transparent by 2020. In the meantime, it is pursuing the goal of including provenance on the Tiffany Diamond Certificates of its individually registered diamonds within the first quarter of 2019.
Endnotes:
[Image]: https://www.jewellerybusiness.com/wp-content/uploads/2019/01/bigstock-SINGAPORE-CIRCA-SEPTEMBER-185083756.jpg
Tiffany & Co.: https://www.tiffany.ca/
Source URL: https://www.jewellerybusiness.com/news/tiffany-co-commits-to-transparent-diamond-sourcing/
---