Watches, sapphires lead sales at Toronto auction
November 22, 2018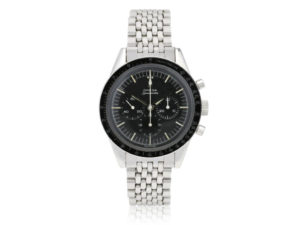 Demand is strong for timepieces and sapphire jewellery, if the results of Dupuis Fine Jewellery Auctioneers[2]' latest sale are anything to go by. At the company's Fall Important Jewels[3] auction, held in Toronto on November 18, these two item types performed particularly well. More than $2 million in sales were generated at the sale overall.
Of all the watch lots offered at the auction, 93 per cent sold, including 100 per cent of Rolex[4] timepieces. One vintage piece, a 1960s Omega[5] Speedmaster, sold for $15,000, exceeding its presale estimation of $4000 to $6000.
The majority of sapphire pieces offered also sold, with 80 per cent being purchased by bidders. Natural, untreated sapphires were in particularly high demand, selling for as much as four times their presale estimates.
The sale featured items from various time periods, including some from as early as 1841. Ultimately, 75 per cent of the lots sold, and Dupuis has now turned its attention to February's Boutique Auction and the next edition of Important Jewels in June.
"With the results we've seen this year, the auction market is proving its strength," said Duncan Parker, vice-president and jewellery specialist for Dupuis and estate columnist[6] for Jewellery Business. "Bidders around the world are seeking the rare and the beautiful, and our clients recognize the value of luxury goods."
Endnotes:
[Image]: https://www.jewellerybusiness.com/wp-content/uploads/2018/11/watch.jpg
Dupuis Fine Jewellery Auctioneers: https://dupuis.ca/
Fall Important Jewels: https://dupuis.ca/important-jewels-fall-2018/
Rolex: https://www.rolex.com/
Omega: https://www.omegawatches.com/
estate columnist: https://www.jewellerybusiness.com/features/alloys-through-the-ages/
Source URL: https://www.jewellerybusiness.com/news/watches-sapphires-lead-sales-at-toronto-auction/
---