WDC discusses Kimberley Process reform with Angolan stakeholders
July 24, 2018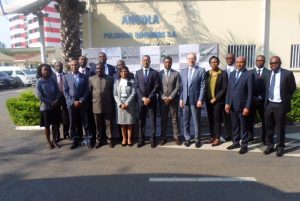 The World Diamond Council[2] (WDC) is continuing its efforts to better understand the benefits and challenges the Kimberley Process[3] (KP) brings to African communities. To that end, the organization's acting president, Stephane Fischler, and its executive director, Marie-Chantal Kaninda, recently travelled to Angola to meet with KP stakeholders.
Over the course of the visit, Fischler and Kaninda discussed the reform of the process and the scope of its definition of conflict diamonds with Angola's official KP representatives (Estanislao Buio and Paolo Mvika) as well as its minister of mineral resources and petroleum, H.E. Diamantino Azevedo. Meetings were also held with Eugenio P. Bravo Da Rosa and Jose Ganga Junior, representatives of the country's national diamond company, Endiama[4].
"With diamonds being such a critical part of African economies, I cannot underscore enough how critical it is to listen and engage directly to help reach not only a more sustainable global diamond industry, but also one that brings back to local communities the social and economic benefits they rightly deserve and ensures fair income for African governments and their trading partners," said Fischler.
In addition to discussing the Kimberley Process itself, Fischler and Kaninda spoke with Angolan executives about how the country's artisanal mining sector might be formalized. The WDC representatives also toured a diamond polishing factory.
This was WDC's first trip to the country outside formal KP meetings, following a similar mission to the Democratic Republic of Congo.
"We are very happy with the success of our visits to both the Democratic Republic of Congo and Angola. There was strong support from the parties we met with and we feel there is recognition of the need for progress," said Kaninda. "As we begin to plan more visits with other African governments to raise awareness around ethical artisanal mining production, I am confident that together we will achieve the goal of improved prosperity for diamond-producing nations, communities, and citizens."
Diamonds are Angola's second-largest export, having brought in gross revenues of US$1.1 billion last year.
Endnotes:
[Image]: https://www.jewellerybusiness.com/wp-content/uploads/2018/07/angola.jpg
World Diamond Council: https://www.worlddiamondcouncil.org/
Kimberley Process: https://www.kimberleyprocess.com/
Endiama: http://www.endiama.co.ao/en/
Source URL: https://www.jewellerybusiness.com/news/wdc-discusses-kimberley-process-reform-with-angolan-stakeholders/
---