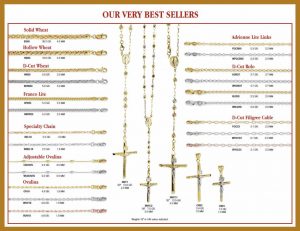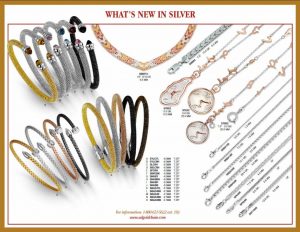 Adrienne Designs has been a prime source for 14-karat Gold and Sterling Silver chains since 1976. We offer a full line of 'customer-tested and approved' chain styles in yellow, white, and rose gold that are perfect for pendants.
For over 40 years, we have offered competitive pricing, consistent chain weights, and reliable, friendly service. Innovative products, such as 'sliding adjustable' chains in standard length cuts, are part of our tradition of striving to offer practical solutions and the very latest trends when possible.
For your convenience, many of the more popular chain styles offered in 14-karat Gold are also available in Sterling Silver. All our chain products are covered by a Lifetime Warranty, guaranteeing customer satisfaction.
Additionally, our yellow gold 'Hamilton' finish is your assurance our chain and your American-made pendants will match.
For added security and reliance, lobster clasps are available on 99 per cent of all our chain products.
In addition to our extensive product line, our customers receive the following great benefits:
Competitive pricing
Lifetime warranty
U.S. gold colour matches pendants
Experienced sales team
Selection guaranteed to sell
We look forward to serving your jewelry needs now and well into the future. If you are looking for chain styles that sell year-round and are backed by consistent, friendly service, and competitive pricing, you have found them.
For more information or to place an order, call us at (800) 621-5632 ext. 103 or use the following links:
All information listed in this section was submitted by Adrienne Designs.
Kenilworth Media Inc. cannot assume responsibility for errors of relevance,
fact or omission. The publisher does not endorse any products featured in this article.