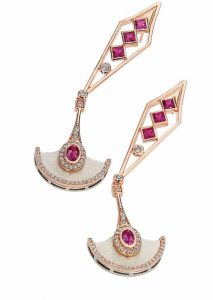 By Carly Midgley
In the day-to-day rush that makes up the life of a jewellery retailer, it can be difficult to keep track of the bigger picture. For Montréal designer Kate Hubley, however, it's all about perspective.
"As time passes, we live and learn from our experiences," she says from her booth at Expo Prestige in Montréal. "In the moment, we might have one experience. Then when the pendulum has time to swing in the opposite direction, we can truly take a step back and see what that experience means. When it comes to a standstill, that's when you have your calm."
This is the inspiration behind Hubley's 'Pendulum' earrings, which earned her a spot among the 15 winners of the Québec Jewellery Contest at Expo Prestige 2018. This juried competition recognizes exceptional work by designers, jewellers, and students who are members of the Québec Jewelers' Corporation (CBQ).
Local designers were also shown some love on the show floor itself with the addition of the brand-new designers' pavilion, where nine Québécois jewellers, including Hubley, gathered to show off their styles.
"The show organizers have really been very conscientious and helpful," Hubley says. "They truly care that we do well, sending people down here and making two announcements a day."
The new pavilion was welcomed by many exhibitors as a step forward. Kenneth Laughlin, sales representative for United Precious Metal Refining, looks at it as one way to bring some much-needed "new blood" to the 48-year-old event.
"From my own observations, the median age group at the show now is people in their 50s and 60s," he says. "Montréal has fantastic designers, and those designers are the people who are going to bring in the new generation."
This focus on the young and up-and-coming wasn't just limited to la belle province. CJExpos Toronto and Edmonton also put emerging designers in the spotlight this summer by showcasing pieces by the 2018 Giovanni Vaccaro Family Scholarship finalists, allowing attendees to cast ballots on the winner.