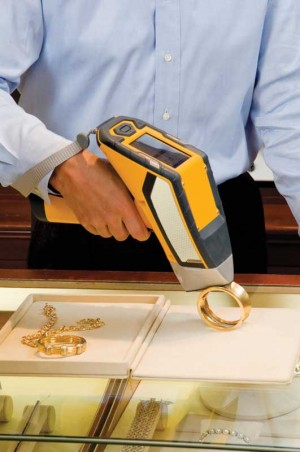 While fire assays are very accurate, they can be complicated to carry out, requiring trained and experienced operators. They are also destructive in the sense the piece being tested is melted. The gold, however, can be fully recovered.
Another option—advanced X-ray fluorescence (XRF) technology—can allow jewellers to perform a quick, non-destructive, and accurate analysis of jewellery, coins, and other items containing precious metal.
XRF can identify the composition of a sample by reading characteristic X-rays of the various elements (or 'fingerprint') within a metal. Its non-destructive method can analyze all precious metals and common alloying elements, including gold, silver, platinum, and palladium, as well as common elements used in counterfeiting of precious metal alloys, such as chromium, titanium, and tungsten. Devices of this nature display the sample's chemical composition. In the case of gold, they can also determine karat value.
In addition, one XRF device equipped with a patented gold-plating detection technology performs a series of primary and secondary tests to flag gold-plated items; it works regardless of the composition of the substrate or the plating layer.
Compared to some of the traditional methods used to evaluate precious metals in jewellery, portable XRF is typically priced higher than acid test kits or electronic testers. However, depending on the volume and type of jewellery being traded, the payback period may be less than a year for some users.
There are several commercial methods used to determine the true value and authenticity of jewellery. Although the cash-for-gold craze has tapered somewhat due to lower gold prices, jewellers and others who trade in precious metals must adopt a testing method that is cost-effective and appropriate for their operation. In the final analysis, protecting your interests is of the utmost importance.
Jonathan Margalit is the business development manager for Thermo Scientific Portable Analytical Instruments, a business unit within Thermo Fisher Scientific. In his role, Margalit manages the development of new precious metals and metal-recycling markets and applications. He received his PhD from the RWTH Aachen, Germany, in the field of high-temperature aircraft ceramics.