Putting the Diamond Bourse of Canada on the map
By Jacquie De Almeida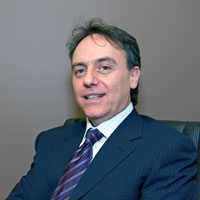 Why travel to Antwerp, London, or Botswana to purchase rough when you could be buying it in Toronto?
That's the message from David Gavin, president of the Diamond Bourse of Canada (DBC).
In an exclusive interview with Jewellery Business, the industry veteran says trading Canadian rough through the Toronto bourse would be appealing to sightholders who currently have to travel to those centres to do business.
"What the [DBC] board would like to see is that we hold back a little more rough than what is being kept at this point in time and make Canada, certainly Toronto, become a centre similar to that of Antwerp as far as the rough market is concerned," says Gavin "Toronto is in a first-world country, it's a great place to visit, and it's certainly geared toward facilitating business."
Right now, most of the rough Canada produces gets shipped overseas and mixed into boxes, with only about 10 per cent pulled out to be cut as Canadian.
Gavin took over as president from Bhushan Vora, after elections were held in July. When it opened its doors in 2010, the DBC became the 29th bourse in the world and established a Canadian 'cradle to finger' diamond pipeline. Since then, membership has grown to 98 diamond wholesalers and producers, as well as retailers.
Originally from South Africa, Gavin says that country faced a similar situation. "It's a diamond-producing country that had a secondary industry by way of diamond cutting, but at one point, the majority of the production was shipped overseas because they were serving a very small market." Canada consumes only about four per cent of the world's diamonds, both generic and Canadian.
Keeping more Canadian rough in the country could also help sustain a cutting and polishing industry, and further raise the profile of Canadian diamonds, both abroad and locally. Although consumers look to Canadian diamonds for their quality and conflict-free status, Gavin says more needs to be done to strengthen the brand. One idea being considered is to centralize the business by developing a national strategy that ties in all the provinces.
"We need to get governments at the provincial and federal level to understand that there's an amazing opportunity for them to capitalize on the resource that lies under the ground," Gavin explains.
"Canadian diamonds are relevant to everybody, so we need to raise their profile at home first. Once we've managed to do that, then we will be able to take it abroad."