Baselworld 2016: Hopes are high for a reinvigorated watch sector
June 13, 2016
By Jacquie De Almeida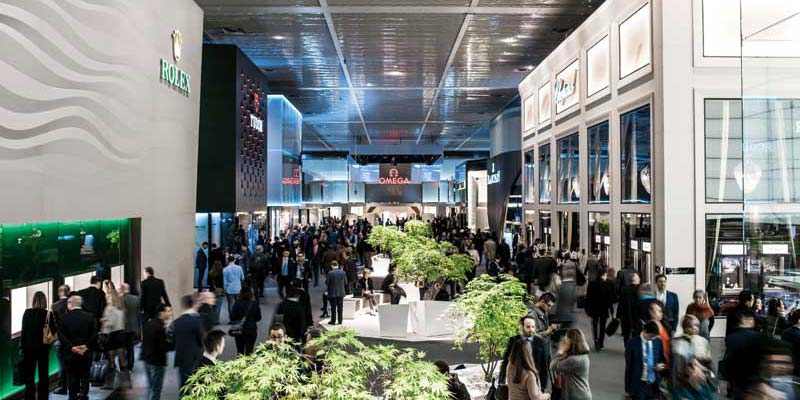 Currency woes, increasing demand for smartwatches, and slower watch sales in China were some of the issues facing exhibitors and buyers alike at the 44th edition of Baselworld.
The eight-day fair opened under a haze of cautious optimism for a turnaround in consumer purchasing habits in the short term and greater demand for watches in traditionally strong markets. Although the general consensus among attendees was slower-than-normal traffic in the aisles, the fair's organizer—MCH Group Exhibition—said more than 145,000 people attended, only a three per cent drop from 2015's numbers. Interestingly, more than 4000 journalists attended, up 2.3 per cent year over year.
At the international press conference, Baselworld's managing director Sylvie Ritter announced almost all exhibitors from last year's edition had taken their places in the show's halls, although some small and medium-size businesses made the choice to forgo a booth this year.
Still, the fair's organizer put its best foot forward, highlighting its longstanding history and comparing it to the watch industry's current state of affairs. This year's edition of the fair marked a milestone for MCH, which is celebrating the 100th anniversary of its first Mustermesse Basel (MUBA). The event marked the start of the group, along with the birth of the modern Swiss exhibition industry. Describing how Baselworld had evolved from being a small exhibition of Swiss watches within MUBA, MCH Group CEO René Kamm also stressed its success at weathering other storms over the course of its history.
"Where passion presides, the will to overcome challenges will always succeed," Kamm said. "And the watch and jewellery industry has the passion and resilience to deal with these challenges."
His words came days after the Federation of the Swiss Watch Industry (FH) released its February 2016 report. It noted Swiss watch exports remained on a negative trend for the eighth consecutive month, down 3.3 per cent compared to February 2015 for a total value of 1.7 billion CHF ($2.3 billion Cdn.).
The decline was due mostly to a downward trend in the Hong Kong market. The situation looked no better a month later when FH released it March 2016 figures. Hong Kong recorded one of its steepest downturns at -37.7 per cent, followed by the United States at -32.9 per cent.
Speaking at the annual Baselworld press conference, François Thiébaud, president of the Swiss exhibitors' committee, put the yearly figure into perspective, saying the sector had only weakened by 3.3 per cent in 2015, a figure in sharp contrast to the industry's 60 per cent growth in exports since 2010. The watch industry's showing was also better compared to other Swiss exports, he added.
The situation may be additionally frustrating given the growing popularity of wearables. As the fair opened its doors, market research firm Strategy Analytics reported the number of smartwatches shipped in the last quarter of 2015 had reached 8.1 million units, overtaking the number of Swiss watches shipped by roughly 200,000. And according to International Data Corp. (IDC), the wearables market is forecast to grow by 38.2 per cent this year.
Gino DeVuono, vice-president of Toronto-based sales agency Specialty Watch Resource, says luxury watch brands are not shying away from wearables, but they are conscious about designing a piece offering connectivity within the look of a traditional watch.
"It looks like a watch and in particular, it looks like a Swiss watch," he said, referring to Frederique Constant's smartwatch. "There is still a customer for high-end luxury. Are they going to own a smartwatch? Yes, but it can be part of their wardrobe.
Paul Kwong, president of watch distributor Universal Time Corp., in Markham, Ont., says smartwatches for the most part still have a way to go in marrying design and convenience. "Most smartwatches on the market right now aren't very attractive; they bring a lot of functions to your wrist, but there's no real detail or design to them," he said. "If you can come up with something that has traditional features and good design, along with good functionality, there will be a bigger market for [luxury] smartwatches."
Ryan Gonçalves, president of Time Central in Markham, Ont., says tougher times in the watch business call for diversifying channels of distribution among consumers. A line that could be sold in not only a jewellery store, but say, a sporting goods chain, can offer more points of sale and may attract a sports enthusiast to a jeweller's counter.
"A more sports-oriented watch line won't likely compete with anything else jewellers might have in their store, which is difficult to do these days," he says.
Despite the challenges currently facing the watch sector, DeVuono says his impression is retailers have become disenchanted with the bigger watch groups due to over-distribution. Instead, they are looking for alternatives to capture consumers' attention.
"Retailers don't get to make the same margins because over-distribution promotes discounting," he explained. "They also don't want to compete with three other people in the mall. They would rather have some sort of exclusivity. They can't differentiate themselves if there is a sea of sameness happening.
"The first thing you notice is how many brands are being offered in Canada compared to 20 years ago. The Internet has played a part in shrinking the global community. Since everything is available, it creates more choices for the consumer. In the past, retailers carried two or three luxury brands, now they're carrying eight to 10. Watch brands that used to be incredibly exclusive are being carried in many more stores or they're in 20 to 30 locations instead of just five. I think that's happened because when you're down 30 per cent in your biggest market, namely China, you have to find business somewhere else in the world."
It's been more than a year since the Swiss National Bank unpegged the Swiss franc against the euro, causing it to soar 30 per cent instantly. And while anyone dealing in Swiss francs has acclimated to the new reality, Canada's loonie is still playing havoc with pricing strategies, although things may be looking up.
Sian Williams, president of Bulova Corp., says the recent uptick in the Canadian dollar (sitting at $0.78 against the U.S greenback at this article's writing) has helped relieve some of the worry. Although the company implemented a price increase in 2015 (its first in 10 years), prices will remain steady this year, she said, helped somewhat by increasing demand through the use of social media. Williams says connecting to consumers through various platforms is a major focus for Bulova, so much so, it has hired a dedicated social media expert to create content to deliver ready-made to its client base.
"Our social media person has put together a 365-day calendar of content for our retailers who can share it with their followers every single day," she explains. "You have to make it easy for retailers who might not be technologically savvy or are intimidated by social media."
Gonçalves says that although the watch industry is dealing with numerous challenges, he expects the tide to turn, given brands are reaching out to watch repair businesses like his to set up local servicing.
"It shows some brands are doing well to a certain extent," he said. "We find the higher-end Swiss lines are looking to have their brands serviced here."
No doubt millennials have been the focus of the jewellery industry for the last several years and the same is true for watch brands. Their desire to seek out the unique make them a natural choice for luxury watch brands, which tend to play up their heritage and place within horological history.
"Millennials have money and will spend money on a nice watch," says Jeff Morrison, president of Specialty Watch Resource. "They want something special and they want an experience. And when they're ready to buy something, they go to a jeweller that specializes in the unique and different."
Blue dials and straps, ultra-thin timepieces, and new twists on all-time classics were some of the more noteworthy trends at the fair, some of which are displayed within these pages.
Next year, Baselworld runs from March 23 to 30.
Source URL: https://www.jewellerybusiness.com/features/baselworld-2016-hopes-are-high-for-a-reinvigorated-watch-sector/
---