By Ron Dupuis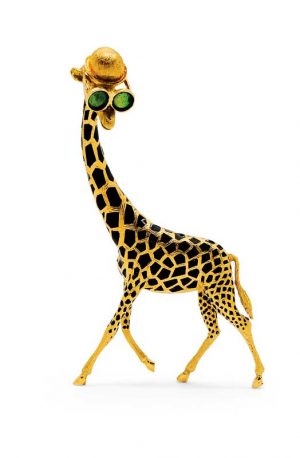 Although they may be diminutive in stature and composition, designs featuring a whimsical motif have broad appeal in jewellery, especially since they're often the product of the creative minds and workshops of some of the finest makers.
The same high-quality workmanship and material go into these pieces as in their more serious items. These charming designs are often created as brooches and pendants, sometimes as bracelets and rings, and more rarely, as earrings. Over the years, individuals can establish extensive collections of their favourite motif.
Sometimes with expressive eyes and articulated body parts, whimsical jewellery often features an element of anthropomorphization to some degree, and it's this attribution of human behaviour or emotion that's so easy to identify with.
Exaggerated shapes and dominant details are pleasantly connected to contribute to the essential charm, humour, and frivolity of each item. Often petite, these charming motifs can be multicoloured, vibrant, and stylized, rather than a true and accurate representation of any real creature or thing.
The term 'ludic'—meaning a playful quality—fittingly describes in auction catalogues and print advertising some adorable bit of cutesy nonsense, conveying a lightness of spirit legitimately worthy of appreciation. The prevalence of cute kittens and puppies on the web and in YouTube videos sweetly threaten to crash the Internet; T-shirts, mugs, cushions, slippers, calendars, and greeting cards surround us with a wonderfully unserious tone. The comical can also bring solace and catharsis to the world-weary soul like any good comedian; why shouldn't a piece of whimsical jewellery do the same for both the wearer and the onlooker.