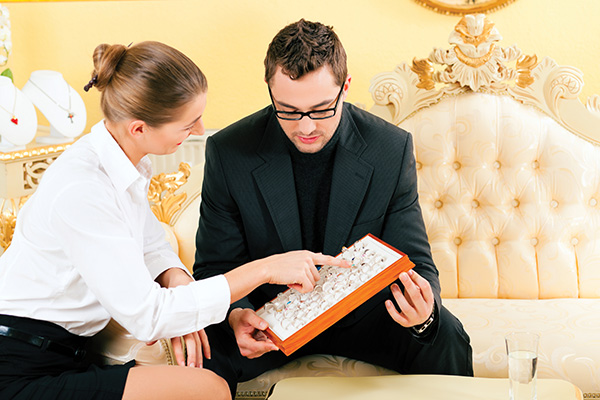 Trust plays a significant role in the relationship between a jeweller and his or her client. Indeed, no matter the size of a purchase or the reason behind it, it is vital customers feel confident they are getting what they paid for. Ensuring this confidence starts with a jeweller's decision to make smart, safe, and secure diamond and gemstone purchases when building their inventory.
Staying vigilant and knowing how to minimize the risk of being scammed is the best way to protect yourself, your business, and the client relationships you have worked so hard to build. What follows are several 'buying and selling' tips to ensure you are doing your due diligence to supply diamonds and gemstones in a smart, secure manner—for the sake of your business, your reputation, and the bottom line.
Buying
1) Watch out for unsolicited calls
Scammers may use unsolicited phone calls or emails to advertise beautiful gems, telling prospective buyers they can make a large profit by purchasing "directly from the source," reports the Gemological Institute of America (GIA). These criminals hope to pressure retailers into feel they must act fast or risk missing the sale.
Sadly, offers appearing to be 'too good to be true,' most often are just that. Be sure to consider the consequences that may arise when buying through from unfamiliar sellers who are making big promises.
2) Shop and purchase in person
In the past decade (particularly in the last couple years when our lives primarily existed in the virtual landscape), much of the buying/selling of diamonds and gemstones has moved online. Scammers take advantage of this by posting misleading photos and information that might seem convincing to even the most seasoned professional. If you are buying from a new seller, be sure to view and purchase items in person whenever possible.
Scammers have also been known to switch out gemstones between the first viewing and when the jeweller completes payment. As such, it is crucial to re-inspect gems before following through with a transaction to ensure the product you are buying is, in fact, genuine, and has not been swapped out for a look-alike.
Completing an inspection with your own eyes—first when shopping and, again, before finalizing a purchase—will help you feel twice as confident about what you are buying. Additionally, as more and more laboratory-grown diamonds and gemstones are being passed off as mined, it is important to know what to look for when viewing items.
3) Do your research
Requesting (and checking) references, asking for proper identification, and reading reviews online are simple but critical steps to make sure a prospective buyer is worthy of your trust.
Additionally, digital tools can simplify the process and give you extra piece of mind. Knowledge is power. Having all of the necessary information in one digital location can empower retailers to make informed business decisions, create a seamless customer experience, and provide exclusive product selection.
Selling
1) Be wary of rushed requests
Jewelers' Security Alliance (JSA) recently issued a warning of numerous reports of scammers calling retail stores and requesting high-value items to be shipped overnight.
With these scams, callers typically know a lot about the company they claim to be from, as well as a great deal about the retail store they are calling, and will request high-value items be shipped overnight. Ultimately, the criminal is hoping to divert the package from the address of the original order to an address of their choice.
To protect your merchandise, it is recommended to contact your carrier and enable specific security settings on your account to restrict package redirects to a limited and predetermined list of named store employees. Taking this proactive action will help ensure your packages are not intercepted by criminals. There are several industry-specific platforms available to help Canadian jewellers verify addresses, insure shipments, track packages, and more.
2) Greet customers personally
Saying "hello" to every customer who walks through your door and making direct eye contact is a great way to help prevent scammers and criminals from preying on your business. Even if you are occupied with another guest, always go out of your way to offer a quick and friendly greeting. This immediate acknowledgment might be sufficient to showing a potential criminal your staff is alert and attentive, making your shop a 'hard target' for jewellery crime.
While greeting customers, take note of anyone wearing sunglasses, hats, hoodies, baggy garments, or clothing that does not seem appropriate for the season. These articles of clothing and accessories may be used to help to conceal a person's physical appearance or identity.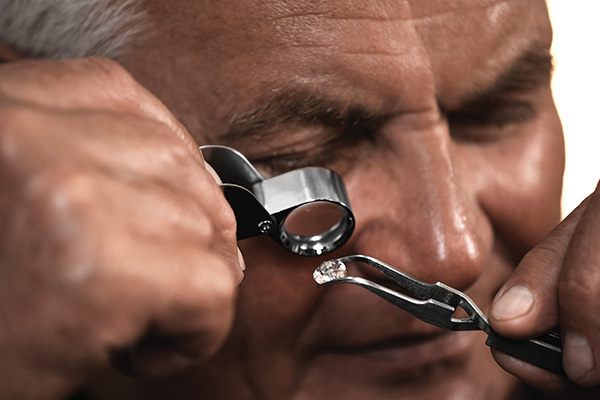 It is also important to be cautious of those using a cell phone while on your premises. These individuals could be speaking to an accomplice and sharing information about your business's security, staffing, or procedural details. Be sure to stress to your staff the importance of keeping specifics about shipping and other procedural processes confidential. Likewise, if you feel a customer is asking suspicious questions about these practices, make note of the incident and report it to your colleagues and to the authorities.
3) Know what is covered
While most jewellery retailers are familiar with the basics of what is protected under their insurance policy, questions may remain about what, exactly, is covered when it comes to buying and selling scams. To sufficiently prepare for the worst, it is crucial to know exactly what is and is not covered under your policy. Staying informed in this regard will help you react quickly and take the necessary action to protect your business. Credit card fraud, for example, is not covered by most insurance policies, so it is imperative to have iron-clad verification checks in place.
Be sure to work with a broker who is an expert in jewellers block policies. These professionals will help to make sure your business has enough insurance coverage to protect inventory (including diamonds and gems), as well as the business's personal property.
Putting clients first
When it comes to customer relations, those working in this industry have a unique responsibility. By taking on the task of creating and sourcing perfect pieces for client's most significant life events, jewellers share a special bond with their customers. It is important to maintain the sanctity of this relationship by ensuring clients feel confident they are getting what they pay for. This is integral to building longstanding connections and solidifying repeat customers. 
For resources regarding safety and security when carrying or working with jewellery, visit JewelersMutual.com. For more information on reliable burglar alarm systems, subscribe to the Jewelers Mutual Clarity blog at jewelersmutual.com/clarity-blog. Jewelers Mutual Insurance Group is the only company specializing exclusively in jewellery insurance in Canada and the United States. It is licensed in Canada and all 50 states.