By Jacquie De Almeida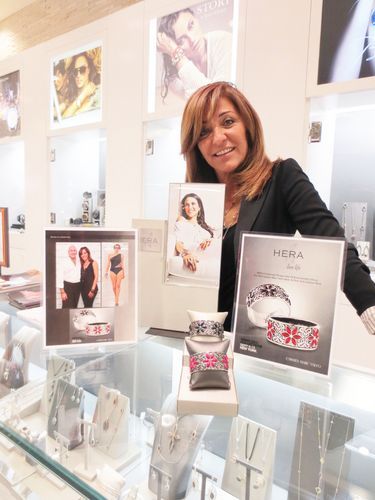 Hera Arkarakas is a people person.
Although she works behind the scenes most of the time designing her jewellery collections, getting out in front of consumers is an opportunity she is quick to jump on. The interaction and feedback are invaluable, she says.
"This is really fun for me because you get to talk to the people who buy your jewellery," Arkarakas tells Jewellery Business from a trunk show at Cupido located at Toronto's Bayview Village Shopping Centre.
It's a slightly lower-octane event than two months ago when Hera Jewellery was showcased at Mercedes Benz Fashion Week as part of Carmen Marc Valvo's Spring 2013 collection. Models in cocktail dresses, swimwear, and sleek ready-to-wear styles slipped on Arkarakas's limited-edition cuffs featuring oxidized sterling silver, onyx, and coral composite.
The collaboration was a first for the Toronto-based jewellery designer, although she says it likely won't be her last.
"These kinds of partnerships bring more awareness to a brand," she says. "Jewellery and fashion are part of the same business; they go hand in hand. For me, it's rewarding to work with fashion designers and get their feedback because it provides new inspiration to me when I see the clothing."
So what's the biggest challenge right now to selling jewellery? The recession, says Arkarakas. The trick, she adds, is helping consumers see the value of their purchase and equating that with positive feelings. Enter the company's tag line, 'Live life.'
"People can spend a relatively small amount of money and make themselves feel good, which is what they're looking for," she says. "They're still scared, but want to make themselves feel good and live life. In that sense, what we've designed and what we're doing fits with the times."
Versatility is another critical element for the consumer, Arkarakas says.
"Women are looking for fashion statement pieces and accessories to their clothing," she explains. "It's more than just buying jewellery. They want pieces they can wear with different outfits, whether they're going to the gym, dropping off the kids at school, or going on a date night with a boyfriend or husband."
While her focus right now is on continuing to grow her ladies' line, Arkarakas says expanding with a men's collection is not out of the question. An untapped market by most accounts, men's jewellery tends to be a tougher sell.
"Men don't usually buy themselves a piece of jewellery—women have done it since the beginning of time," Arkarakas says. "We like to adorn ourselves. Men are not so much into adorning themselves, but rather buying a good watch or wearing a wedding band, maybe a bracelet. I think that's changing. A trendy man is conscience about what he wears and will make jewellery a part of his accessories."
With the metrosexual look still going strong, that may not be too far off the mark.