A personal touch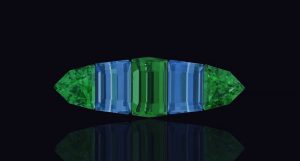 In addition to other qualities, colours have a temperature. Warmer hues, reflective of daylight or sunsets, are red through yellow and include browns and tan. Cooler colours visualized as overcast or grey days are green through blue and violet.
While hardly foolproof, the trend in past years has been for individuals to have their colours 'researched' by a fashion consultant. This concept does have merit. Whether you wish to identify a client's colour season or simply observe what  particular colours or combinations 'pop' when wearing coloured gemstones, it is useful to make an observation.
 A cool blue-red, such as ruby, is quite different from the warmer orange-based red of some garnets or red spinel. Similarly, yellowish greens will be warmer than icy blue-green hues. This factor is of great help in creating a piece of custom jewellery perfect for an individual client.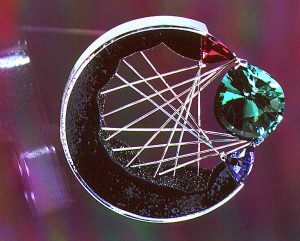 Set the stone
The colour of metal used for setting stones plays an important role in the finished jewellery. In many cases, the metal colour is more a of a client preference e.g.  someone may prefer yellow over white metal on their skin, or vice-versa.
Personally, I prefer most rubies and other red gems in warmer-toned yellow or rose gold, and cooler gemstone colours in white metal. That being said, it is hard to discount the beauty of a royal blue sapphire set in rich deep yellow gold.
Using more than one colour of gold in a piece can work well, too. Generally, more pastel tones will show better in neutral white metal, while more saturated colours can shine with yellow or red gold.
Designers are privileged to work with a range of coloured gems, which provide the entire spectrum and offer an endless scope for creative design. Put more colour in your life! Whether subtle, soothing pastels or vibrant exciting primary hues, there is a colour combination to suit every project.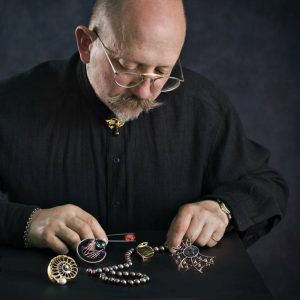 Llyn L. Strelau is the owner of Jewels by Design in Calgary. Established in 1984, his by-appointment atelier specializes in custom jewellery design for local and international clientele. Strelau has received numerous design awards, including the American Gem Trade Association's (AGTA's) Spectrum Awards and De Beers' Beyond Tradition—A Celebration of Canadian Craft. His work has also been published in Masters: Gemstones, Major Works by Leading Jewelers. Strelau can be reached via e-mail at designer@jewelsbydesign.com.