The process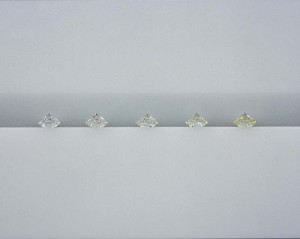 So how does any laboratory determine diamond grades and why does it matter to us? First, it's important to recognize that a grade, unlike a physical measurement, is not a fact. It is a subjective opinion based on specific criteria using repeatable methodology in a specified environment. It's not the same as determining the table percentage or pavilion angle. An exploration of the various labs' websites indicates the basic process is essentially the same for every grading service. A diamond is submitted and enters the system where the factual data such as weight and measurements of the exterior are recorded. It then goes to a grader for evaluation of a specific attribute, colour for instance. They record their opinion of the colour and the stone moves to a second grader who does the same. This process continues until a 'consensus opinion' of the grade is determined, and that is what ends up in the report. The same procedure is used to arrive at the clarity grade. This tells us in no uncertain terms that every grading report simply represents a set of opinions arrived at by a majority of graders on that day. One important thing to keep in mind is human perception of colour is not consistent through time or between individuals—the other graders weren't 'wrong,' they were just outvoted.
In years prior to digitized databases, it was possible the same lab might issue several different grading reports for the same diamond because of 'grading by consensus.' Now consider that each lab has a slightly different set of grading standards and a different set of grade boundaries. This makes it far more likely that reports from different labs will disagree, rather than agree, on the grades for any specific stone. Given the possibility of multiple grades for the same stone, can we really say which one is 'right?' Oddly, I believe they all are. Facts can be right or wrong; opinions simply differ. Grades are not facts—they are considered opinions of the grader.
I'm not saying a grade can't be wrong. I am, however, suggesting it would only happen if there were a misapplication of the methodology or grade definitions of that specific system, whether intentional or inadvertent. Is it any wonder that we, as independent gemmologists, sometimes disagree with a grading report or each other? Maybe we simply represent another voice for the minority opinion, or perhaps we're comparing oranges and tangerines.