Desert delights: Highlights from JCK Las Vegas
August 31, 2017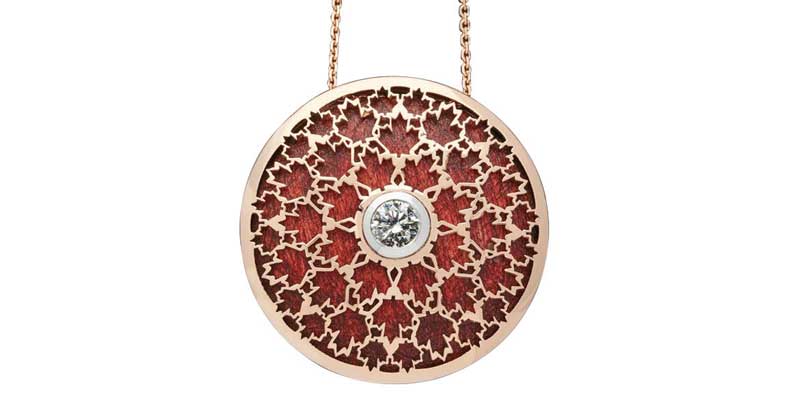 [1]For many, JCK Las Vegas has been the premier U.S. trade show to attend, with retailers doing a fair amount of shopping for the fall and upcoming holiday season.
From June 5 to 8, thousands flooded into Mandalay Bay Resort & Casino to see what new offerings were available. Product launches, technology debuts, and the hottest styles dazzled attendees.
The show must go on
Even though the downturn in the global, and more specifically, the North American economy, has seen a decline in trade show attendance, JCK Events remains dedicated to hosting a must-attend show.
Diamond dealers, designers, manufacturers, suppliers, wholesalers, and retailers, roamed between the convention centre ballrooms and buyer-friendly trade show floors searching booth to booth for new finds.
Exhibitors were grouped by product categories to make aisle-browsing convenient, and spread across multiple levels and ballrooms in designated neighbourhoods to make the venue easy to navigate.
Private viewing areas, accessible by appointment and security-lined hallways leading to meeting rooms, gave attendees a comfortable boutique-like environment for their browsing and business needs.
Clean comfortable lounges offered a pit stop for visitors to take a breather and enjoy a refreshment between appointments, lectures, demonstrations, and meet-and-greets. Other highlights included a visit by Nick Viall and Vanessa Grimaldi from the TV show The Bachelor at the ALTR booth, while events such as the EFFY­-sponsored Rock the Bowl had attendees partying and bowling into the night at Brooklyn Bowl.
In an effort to change the formatting of the show to accommodate attendee and exhibitor needs, JCK shifted to a weekday schedule rather than the traditional weekend timeframe.
"Our focus this year was to provide the best business environment for our brands and retailers," says Sarin Bachmann, vice-president of Luxury Events.
Despite organizers' best efforts in providing an appealing show environment, overall show attendance was down.
Last year, JCK Las Vegas had 2,100 exhibitors and more than 22,200 show attendees compared to 2015, which attracted 23,000 attendees and 2,500 exhibitors. According to JCK, this year's show had 2,178 exhibiting vendors and welcomed more than 19,200 retailers. Yancy Weinrich, senior vice-president of JCK says, "In a world where we are seeing retail stores closing at an alarming rate, it's refreshing to see more than 1,200 new stores attend JCK for the first time."
Indeed, Freydi Neuwirth Traurig of Atlantic Engraving/Gravure says many Canadians did make the trip south, as well as buyers and retailers from Europe, the Middle East, and Hong Kong.
"Of course, there are some exhibitors who've left and come back," she adds. "At the end of the day, those who've skipped this year will be back in Las Vegas next year. This is our annual reunion, after all."
Sam Mamane, president of Italgem Jewellers, says he saw less Canadian retailers than in previous years, and believes the Canadian dollar may be to blame. "Retailers may feel more comfortable dealing with Canadian vendors and distributors, like ourselves, to service domestically without added duties," he says. "The industry is more cautious regarding budgets, and what lines and brands retailers are bringing into their stores."
Ultimately, handshakes, hugs, and exchanging of business cards on the show floor did not go unnoticed. "This industry is large, but it's also close-knit; we're all friends and family. It's great to be a part of, and I'm sure the show will turn around," says Neuwirth Traurig. 
Leaping forward: Innovation and education
As with past years, JCK Las Vegas remains a prominent stage for major debuts. This year, crowds were able to check out new technologies such as Halojem, a retail product by Jewelers Mutual Group that enables users to create and view a hologram of their piece, customized of course, projected through a clear plastic pyramid. The program also features a social component where users can e-mail the design and share with others. With the same plastic pyramid, the hologram can also be viewed anywhere when projected from a handheld device. 
Apps such as Sarine and Virtual Diamond Boutique demonstrated how they take retail inventory stress away with digital global gem catalogues. Users can make customized searches, view images and gemmological reports, and use in-app communication features to source stones and finished jewellery pieces.
For attendees with impeccable hand-eye co-ordination, visitors to the Stuller booth could try sorting natural and synthetic diamonds with state-of-the-art screening equipment.
"All of the big tool manufacturers, suppliers, packaging companies, and business services were at the 'Essentials' area, many giving demos of their latest technology," says Kate Hubley, a Montreal-based gemmologist and owner of K8 Jewelry Concepts Bijoux. "This was the perfect opportunity to ask questions and do product/cost comparison. Whenever I am in the market for new tools or packaging, I leave with a very clear view of what is the best solution for my needs," she adds.
Staying informed
The 2017 edition of JCK featured various panels and breakfast lecture series. From learning how to maximize your social media reach through Instagram with Jennifer Shaheen's standing-room-only panel, "Hands On Social: Instagram," to Martin Rapaport's daily talks on online diamond trading, safety and the state of the diamond industry, education remained a central component of the show.
Indeed, for some, it's one of the main reasons for attending. "JCK puts together a great line-up of presentations by industry influencers who delve into every aspect of the jewellery business from sustainability and ethics, to marketing and trend-forecasting," says Hubley.
"You get a real sense our American counterparts are great at giving equal importance to creative endeavours and business viability, which can be beneficial and motivating for Canadian designers," she explains.
CanadaMark celebrates 1-5-0
As the 2017 CanadaMark design contest came to an end after weeks of casting votes, finalists were brought together to showcase the finished pieces celebrating Canada's 150th birthday. At an exclusive cocktail party held at the Four Seasons Hotel on June 7, Dominion Diamond Corporation. announced this year's winning design. Pramendra C. Baid of Montreal-based La Pierre Précieuse Inc., took home the title and coveted prize—a stone carving by Wayne Nataway entitled, "Transformation." The winning pendant's intricate design clearly stood out among the rest as an ode to Canada's iconic natural beauty.
"As an immigrant and very proud Canadian, this award is special to me, coming as it does while Canada celebrates the 150th anniversary of confederation," says Baid. "When designing the piece, I wanted to capture the essence of Canada. For me, that meant something simple, confident, refined, and multi-cultural." I was inspired by Canada's natural beauty as symbolized by the maple tree, which is present throughout our great country and by the purity of our Canadian diamonds. I also wanted to incorporate our national colours," Baid added.
Featuring a 0.4-carat round brilliant-cut CanadaMark diamond in a warm maple rose and white gold maple leaf lattice-work setting, the pendant also features hand-stained Canadian maple wood inlay.
Since the announcement was made, the pendant has been purchased by Dominion Diamond and awarded to an individual selected at random from the votes cast.
In addition to unveiling the CanadaMark winner, Dominion Diamond also revealed Arctic Sun, a fancy yellow diamond recovered from the Ekati Mine's Misery main pipe in the fall of 2016. Dominion Diamond partnered with a client to create a 30.54-carat (65.93-carats in the rough) fancy vivid yellow VS1 polished diamond. To date, the Misery pipe has yielded multiple fancy yellow and orange diamonds ranging in value from $10,000 to $150,000 per carat. However, Arctic Sun is the largest fancy yellow stone recovered in North America and has an estimated value of $5 million.
On trend
If the jewellery on display was any indication, it would seem certain trends from last year are sticking around for another. Peach and pink hues in both metals and gemstones remain popular. Edgy spins on classic designs will remain a strong trend this upcoming year, and designers are leaning towards more lightweight dainty pieces.
According to Maren Rosen, vice-president of jewellery and bridal for Stuller Inc., there may soon be a resurgence to bigger and bolder styles. "With the introduction of bold colours and newer looks, I would anticipate we will see the trend shift to bigger and bolder pieces in the near future," she says.
According to Astrid Henninger, brand manager at First Jewelry Ltd., "Many retailers were looking for traffic-driving products that would bring people into their stores and collections that would connect with a younger consumer. I found there to be an increase of exhibitors in the branded silver jewellery category.  Retailers like affordable price-points and I saw a renewed interest in charms because of their collectible nature and because they can bring customers back."
From Stuller to Thomas Sabo and Kit Heath, geometric shapes, specifically circles and cut-out stackable rings, were a prominent style.
For wedding bands, Neuwirth Traurig tells Jewellery Business how they wanted to create a collection that would have something for everyone. Whether it's switching up the colour of gold, diamond-cut detailing, or adding coloured diamonds, "we're focusing on creating new twists on classic designs, which remain our bread and butter," she says.
On the men's side, Mamane found mixed elements with leather and beads to be popular, and buyers raved about new metal options such as ion-plated blue steel and gun-plated steel.
The 2018 edition of JCK Las Vegas will be held at Mandalay Bay Resort & Casino, June 1 to 4. 
Endnotes:
[Image]: https://www.jewellerybusiness.com/wp-content/uploads/2017/08/canadamark.jpg
Source URL: https://www.jewellerybusiness.com/features/desert-delights-highlights-from-jck-las-vegas/
---