By Jacquie De Almeida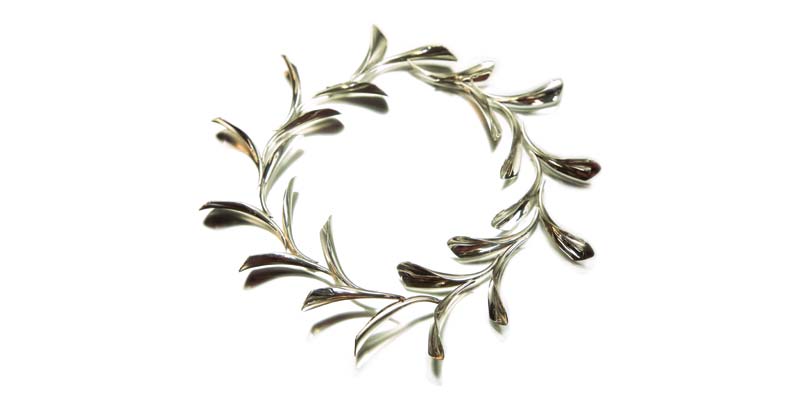 Sometimes, you just have to go with the flow.
At least, that's what Canadian jewellery designer Marina Babic did when she set about creating her 'Vine Necklace,' a sterling silver piece formed using the anticlastic raising technique.
"The design of the [necklace] was derived from the technique of making it," says the Toronto-based designer. "The nature of anticlastic raising created this beautiful curvilinear hollow form that opened up. It reminded me of a flourishing plant with something about to grow out of it. I kept going."
It's a good thing she did. The necklace captured first place in the 'Bead' category at Rio Grande's 12th annual Saul Bell Design Awards, complete with a $2500 gift certificate. It was the first time Babic had entered a piece in the contest.
Named after the founder of Rio Grande, the design competition awards more than $30,000 in prizes each year. The honours were handed out during JCK Las Vegas at a swanky dinner held at Mandalay Bay's Fleur de Lys where Rio Grande executives, industry players, media, winners, and finalists gathered for the awards ceremony.
The art of making jewellery requires a delicate balance between creating a piece that is not only innovative, but also wearable. It is something Babic was keenly aware of during the design process. Each vine piece is strung together like beads, creating fluidity and allowing the necklace to sit on the body comfortably and move with the wearer. Babic—who emigrated to Canada in 1993 from Sarajevo, Bosnia and Herzegovina—credits her background in sculpture-making for her design style.