By David J. Sexton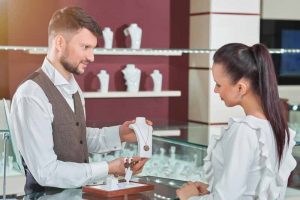 The holidays are, no doubt, the busiest time of the year. 
To gear up for the holiday season, many jewellery retail stores are looking to hire additional seasonal staff. With that in mind, it's crucial to understand three important items:
best hiring practices;
what you need to legally know; and
what steps you can take to avoid jewellery theft issues.
Hiring and legal tips
You've got a lot riding on a few short weeks. Here is some sound advice to make the season truly merry and bright.
Check with federal labour laws to identify any specific legislation that might apply in your individual province. It's important to remember seasonal employees still fall under many federal regulations, such as requirements for overtime pay (which apply to any work exceeding 40 hours per week) and anti-discrimination.
Seasonal or not, keep appropriate records of employees' wages and hours. Written company policies should be provided to each seasonal employee, including break policies, work hours, and pay. Even if a worker is considered temporary, there is still an exposure to legal action.
Take the same steps you would normally take when hiring a full-time employee. If you have a formal vetting policy, that shouldn't change when you are hiring seasonal staff.
Ensure you mutually agree upon the term of this employment, and communicate the relationship is "at-will." Make sure this is in writing and that the employee signs the document.
Again, based on provincial law, if an employee doesn't work out even during a temporary term of employment, he or she could still allege you had no just cause for termination. Make time to train new employees on the ins and outs of your business. Although seasonal, you want the employee to put his or her best foot forward when dealing with every customer.
Theft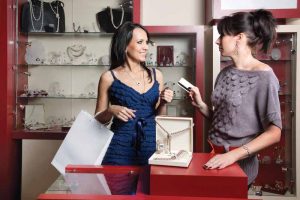 Since you're dealing with luxury purchases and expensive items, background checks are essential. Theft is a big concern in the jewellery industry, and the risk isn't limited to thieves disguised as customers or the act of stealing fine jewellery.
There are several scenarios that constitute theft, such as employees processing their own transactions at point-of-sale and offering themselves extreme discounts. Cash transactions, which are difficult to trace, may end up 'disappearing' along with items you may not think of—for example, something as small as flakes of gold vanishing from the bench area.
How can you successfully reduce threats of internal theft? First, ensure your surveillance system is maintained and is in good working condition, and review that footage daily. Perform the necessary due diligence when hiring to ensure you're taking on trustworthy people. Confirm there are appropriate checks and balances to protect the integrity of your team. Lastly, create and maintain a culture of honesty and transparency. This not only helps the business overall, but also empowers your other employees to step forward and communicate any concerns they may have.
Training
While seasonal employees may not be a permanent part of your business, it is still in your best interest to ensure they are prepared for incidents such as robbery and theft. When training temporary staff, these instructions can help keep your store safe throughout the seasonal rush.
Work in teams.
At least two employees should conduct opening and closing duties. This allows one person to complete the opening or closing procedure while the other remains at a safe distance, able to notify law enforcement if any problems occur.
Establish a code word.
By using a pre-established word or phrase, associates may warn one another of suspicious situations. Doing so can provide a surreptitious cue to leave the premises and contact the police.
Greet every customer.
Staff should be encouraged to speak to and make eye contact with each customer who enters the store. This kind of attention not only makes shoppers feel welcome, but also has the opposite effect on potential thieves.
Show valuable merchandise privately.
Remind your associates to show high-value items away from the main showroom. Ideally, a private area or office should be used for this purpose, as a one-on-one environment can help staff focus and discourage grab-and-run tactics.
Keep showcases locked.
The holidays are an excellent time to remind staff to lock showcases. Of course, this is an important step to take at any time of the year, but it is particularly crucial during the holidays, when showcases may hold more inventory and your store may see more foot traffic. Additionally, keys should not be left unattended in showcase locks.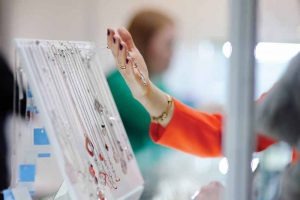 It is also important for you to monitor all staff members who handle merchandise, engage in financial transactions, or have access to computer systems and financial records. Noticeably checking employees' work can also help discourage internal theft.
Put your plan into action
While it may be difficult to adapt to new processes at any time of year, this is especially true around the holidays. However, it is essential for you to take a moment to focus on hiring and training the right people to protect your merchandise and your store. Increasing your awareness and properly training your team members will help you run a well-protected and successful business this holiday season.
David J. Sexton, CPCU, is vice-president of loss prevention consulting at Jewelers Mutual Insurance Co. in the United States. A graduate of the University of Wisconsin, Sexton serves on the Underwriters' Laboratories' (UL) Security Systems Council, where he is a corporate member of the insurance category. He also sits on the board of directors for Jewellers Vigilance Canada (JVC) and worked on the Central Station Alarm Association's (CSAA's) Insurance Liaison Committee, which assisted in the development of the UL burglar alarm modular certificate program and revised UL standard. Comments and questions can be sent to lossprevention@jminsure.com.
For resources regarding safety and security when carrying or working with jewellery, visit JewelersMutual.com. Jewelers Mutual Insurance Co. is the only company specializing exclusively in jewellery insurance in the United States and Canada. It is licensed in Canada and all 50 states.