At first glance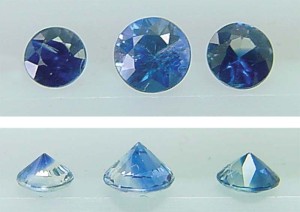 As in all industries where products are bought and sold, first impressions are always key. Though my father taught me how to buy gemstones and diamonds, I've found the best and sometimes most expensive lessons were learned from the mistakes I made during my first buying trips. Gemstone and diamond dealers have long known the initial impression a stone or parcel makes on a buyer is perhaps most critical. To ensure the stone's best characteristics are on display, the choice of colour where parcel paper is concerned is very important.
It has been a long-standing tradition—and one I learned in my early teens—that rubies are parceled in yellow paper, as this intensifies their red colour and masks any undesirable pinkish and purple hues. Given that, I knew quite well to remove rubies from their parcel and evaluate their colour when placed on a white background. Unfortunately, I also failed to grasp another important lesson during those early trips, which is to always examine sapphires in direct light, as well as diffused light. Direct light highlights any unwanted greens or greys in the stone, while diffused light provides a better sense of how dark a sapphire can look in day-to-day wear.
The more I honed my skills as an effective buyer, the more I realized everything I had learned as a student of gemmology at the Gemological Institute of America (GIA) only served as a mere foundation for the vast amount of information I accumulated through my trips. That was proven true when I first started buying diamonds in Mumbai.
In the mid-1990s, the North American jewellery industry experienced very rapid growth in the understanding of gemmology, particularly the use of GIA's diamond clarity and colour grading scale. However, at the same time, Indian diamond manufacturers were still using a 'homegrown' clarity and colour system. Specifically, this clarity scale used the colour of inclusions as the primary classification system. Stones would be identified as either naats or white-based. Naats are diamonds where primary inclusions are black. They are also less expensive than white-based, which are stones with mostly white inclusions. Within each classification, the inclusion's location further divided each group. The general rule of thumb was the cleaner the stone's table, the better and more expensive the diamond.
Every combination of clarity and colour is matched with a particular paper colour that hides a stone's undesirable traits and emphasizes their key features. For instance, a group of white naats would be sold in a grey parcel, thus hiding black-coloured inclusions, while emphasizing the white colour and overall brilliance. Similarly, a yellow stone with white inclusions was sometimes placed in a medium-blue paper, which masked the diamond's tint. Further, a dark-blue paper was used for stones with heavy white inclusions, a yellow colour, and/or strong fluorescence that caused a hazy appearance.
Though India's traditional grading system might seem a duplicate of GIA's clarity scale, it is, in fact, nothing like it. In many instances, it was possible to find a wide range of GIA clarity gradings within a single grading on this homegrown scale. The challenge was to source the parcel with the fewest stones with less-than-desirable grades. This was a lot easier said than done. In many instances, completing a purchase meant accepting these lower-end stones.