By Shele Letwin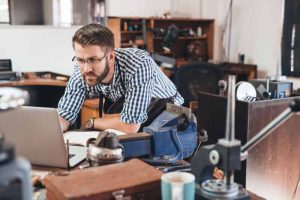 Bench experience is a widely debated topic, especially when it comes to using CAD.  Should CAD designers have experience at the bench? If not, does this mean some important fabrication details may be overlooked? While some suggest this is the case, there's value in CAD training—bench experience or not.
After 17 years' experience working with CAD and training others in design software (some with bench experience, some without), I can confirm a working bench knowledge—as limited as it may be—does make CAD easier. Ultimately, who am I to stifle anyone's creativity? If somebody wants to try CAD, I'll help them.
It's rare to find one person who can sell a design, create it in CAD, prep the resin or wax for casting, hand assemble the elements, set the gemstones, and give the piece a final polish. As with other industries, most people specialize.
Who is best?
Jewellers often ask me, "Who is the best person to train for CAD?"  For many years, I responded with a bench jeweller or someone who has a creative itch and isn't afraid of learning a computer program. Today, my answer would be: Your setter, bench jeweller, or a creative person on your team.
However, of the many people I've trained over the years, only five per cent of them were setters and maybe 20 to 25 per cent were bench jewellers. 
Setters are one of the last craftsmen to work on a piece if there are gems to be set.  If a setter is working on a poorly-built model, you will hear about it. Often, setters get paid by the stone, and if it takes more time to set a stone than usual, they will have lost money during this process.
Many bench jewellers enjoy what they do. Whether it is watching the solder flow to connect two pieces of precious metal together or taking a solid block of wax and carving away the unwanted bits, designs comes to life in their hands. When I'd pitch CAD to bench jewellers, many would tell me they were far too busy, but would ask me to train their partners or children.