By Sonja Sanders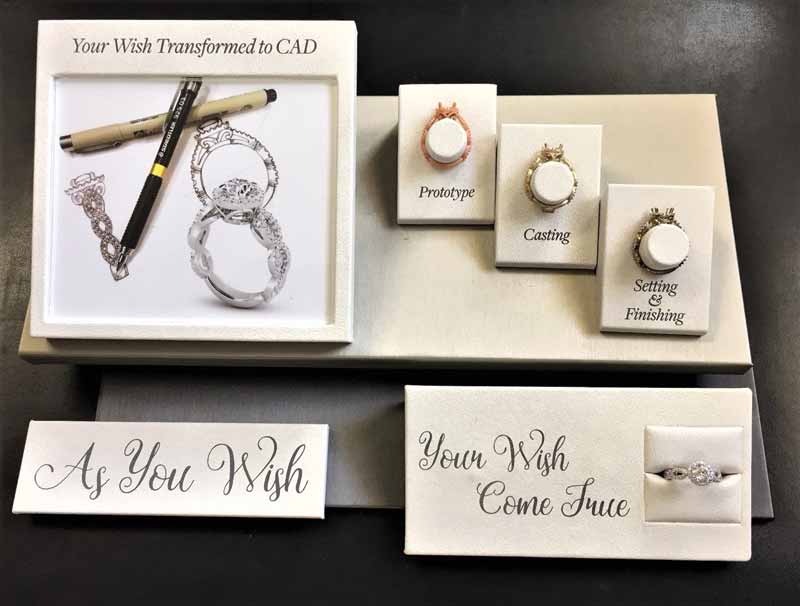 If someone had told me in the 1980s the ways in which automated jewellery design and making would evolve in the decades to follow, I don't know if I could have comprehended the full scope of the concept as it exists today.
If you were making jewellery at the bench around that time, I'm sure you remember the steps a designer/goldsmith went through to please a client who had ordered a custom piece. Funny enough, for professionals, many aspects of the modern process remain the same or similar as they did 30 years ago: you look at the materials you'll be working with, think about what gemstones and/or diamonds need to be incorporated, and consider metal weight restrictions. You calculate sizes, costs, and special effects—all while keeping in mind the price your client can afford.
The contemporary difference largely lies in customer demand and expectations. Once considered a specialized, add-on service, customization is now a vital offering for both small and large shops.
Back to basics
Long-time operators of independently owned brick-and-mortar stores likely recall that, at one point, custom design work was commonly 'farmed out.'
Most shops had an artistic employee on staff who was able to complete initial renderings on paper. You would typically ask them to put together a few drawings of different ideas and interpretations of what the client described, and then work with the customer to refine the drawing and come up with an agreed upon design for the end product.
Then to the bench, where you would prepare the metal components (by hand) and then hand-assemble the item. Alternatively, you could create a wax model of the design, which the client would be able to request changes on before casting took place. Much like today, you could also order ready-made components, such as trims and settings, to make the production easier.
A CAD, CAD world
Compare this process to how things operate in present day. We still complete the hand-drawn renderings, but these are typically done to get a clear view of the design concept for approval before we go to computer-aided design (CAD), or to have the design mapped out for the CAD professional who is doing the computer renderings. Regardless, having a rendering that is considered photo realistic is definitely a gift; we can approve the design from all views and our clients can see the rendering as if it was a picture of the finished product—they have the opportunity to make adjustments, change the size of the stones, or alter the shape of the principal diamond. They only thing they can't do, of course, is try the item on.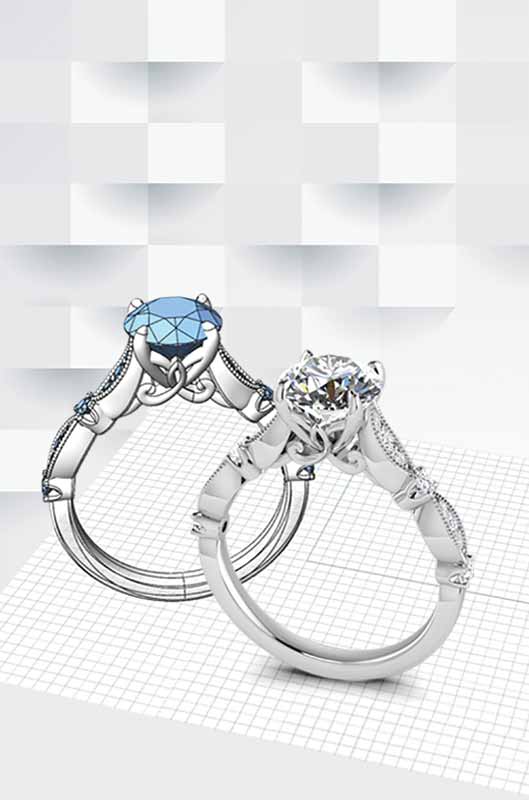 As an aside, the person working on your CAD needs your appreciation—if you're doing it yourself, I offer you a pat on the back. These professionals complete the initial design work on a project and then have to sit back and wait for feedback, hoping there aren't too many changes to the original design. Sometimes clients may only change their minds about the size and shape of a stone, while others might opt for a complete overhaul, switching from one- to two-tone or from solid to lighter weight; requesting you 'stretch this' or 'narrow that.'
Do you appreciate the person doing your computer-generated designs? This detail-oriented professional is very valuable to you.
CAD-CAM
Branching off of CAD, we take this automated design world one step further into computer-aided manufacturing (CAM). Now the design is ready and can be developed as a wax or resin-grown model from a 3D printer (and it can be kept on record for future use).
Those of you who do computer design work in-house can have an outside source grow your model; however, I'm seeing more and more custom designers with printers on their premises. This is because, of course, the jeweller/designer/goldsmith of today is looking for the most convenient and efficient way to deliver a professional product to their client.
There are many things a company considers when determining how much on-site work it can take on. Cost is among the top factors, as is time and resources. Those who have automated this process, however, have largely realized carefully thought-out planning results in time and labour well saved.
Contemporary buying
These days, retail has a very different face. The current culture allows shoppers to simply go online and browse for anything they want. When it comes to jewellery, shoppers can even find apps to help them design their own pieces and either order them right away or present a plan to their jeweller.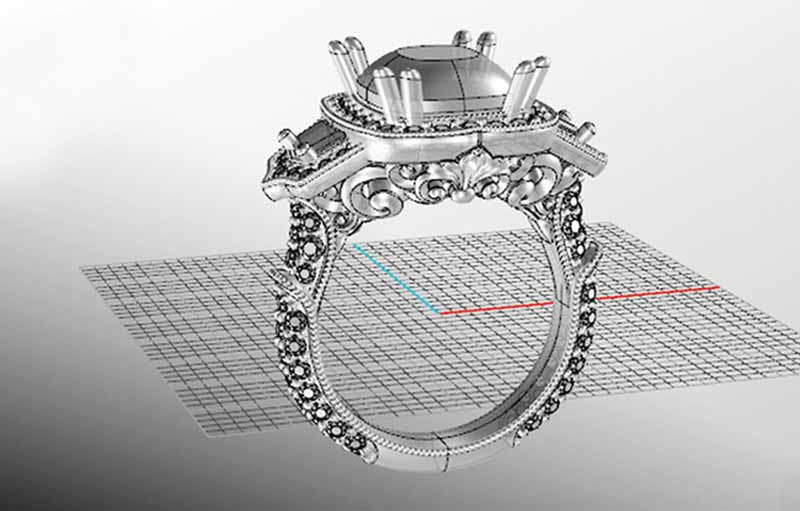 As such, clients may come into your shop with a design prepared before they even meet you; usually they're armed with a cellphone filled with internet-sourced project inspiration photos, while other times they expect to sit down and design with you in front of a computer in your showroom. What's more, clients who are shopping for custom jewellery often expect to see a design of exactly what they want before it is even made.
Many retailers who have had a difficult time moving forward in the worlds of automated design and delivery have partnered with manufacturers, and these professionals have introduced them to convenient and friendly concepts to assist them in meeting this demanding culture.
Photo realistic renderings are a great way to assure the look of the end product for your clients. Further, we are able to make lighter and more delicate designs than ever before. Sophisticated software applications are able to save repetitive designs and trims, as well as a designer's specialized ideas and branded concepts for future use. Designs can be stored and pieces can be re-grown in an easy, productive manner, and are able to be altered and customized to please another client's design needs.
Indeed, when it comes to what a designer can create on the computer, the possibilities seem endless. Of course, this skill goes hand-in-hand with the level of training the designer has.
Online shopping
Our potential customers are able to check their computer and research jewellery concepts at any time. If they search for a particular design, they'll likely find dozens—maybe even hundreds—of variations. They can pick the gemstones/diamonds, as well as the mounts, and price them out. In that regard, these shoppers are sufficiently prepared when they enter a store to order an item they'd like to buy. Nonetheless, while there are many variations of 'halo' jewellery, for example, the client who orders such a design from you is still happy to say they had it 'custom designed' just for them.

As frequently as our clients go online, so, too, should we.  Designers need to know what is available, and familiarize themselves with the work of the current, popular designers. Some jewellers may be surprised to find the most popular sites want to please as many people as possible; they offer vintage designs, halo rings, variations of heart designs and flowers, clusters of coloured gems—you name it. As a jeweller who offers custom design work, understand what your potential customers are looking at in other stores, whether they are brick-and-mortar or online shops.
Traditional versus modern
Amidst contemporary conveniences and smart technology, the traditional training of jewellery professionals remains valuable in regards to custom design services. A well-trained goldsmith, for example, has a lot to offer by way of today's automated jewellery-making methods. Likewise, if not for formal training, CAD designers are unlikely to possess a strong understanding of dimension, structural strength, spacing, and thickness requirements.
Additionally, when a grown model is casted, the bench jeweller doing the finishing has an advantage if he or she has traditional training—after all, growth markings and lines may have to be removed, separate components assembled, or some alterations might have to be made.
A client wants a clean and professional looking finished jewellery item; they didn't order a custom CAD piece just to pick up a tumbled and hastily polished product. The automation of our industry serves as a great advantage to all of us, but we cannot forget to deliver a quality item that exudes pride of workmanship.
Recently, a woman came into our store with a new ring, saying she had shed a lot of tears over the final product because she was constantly losing diamonds. She explained that her own jeweller had made the ring twice, and had designed it using CAD. He was not a goldsmith, but assured her he was skilled in automation technology. After examining the piece closely, I explained the spacing was off for the small diamonds, and the positioning of claws was such that they could slip out with no great effort. I then mapped the proper positioning of the problem areas. The woman went back to her original jeweller, asking him to make a third ring correctly, essentially giving him the opportunity to redeem himself—not all clients would offer a jeweller that many chances! While mistakes happen and we're not perfect, if we offer a service to the public, we have to understand the whole concept in order to produce quality work.
Designing jewellery takes a lot of time. Industry and community colleges offer many courses where education leaders can teach business owners and their associates drawing and design, modern and traditional jewellery making skills—and, of course, CAD and CAM. Now more than ever, there is room in this industry for all types of training and expertise.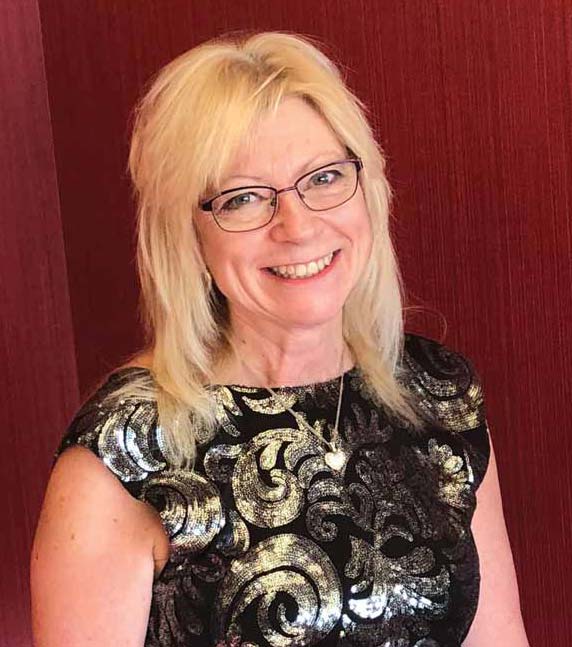 Sonja Sanders grew up in a jewellery industry family, and learned goldsmithing and gem appreciation as a teenager. She now operates her family's jewellery business with her husband Joe and two of their children—the store's third generation. She is a master goldsmith, Graduate Gemmologist with the Gemological Institute of America (GIA), and teaches appraisal courses in Toronto. Sanders also enjoys her work with the Canadian Jeweller's Association where she is involved with the Accredited Appraiser Program and education. She is a lover of antiques and estate jewellery, and can be reached via e-mail at shopwithsonja@bellnet.ca.