Invoking the power of five
InterCHANGE is my trade-name for the jewellery designs I create incorporating the basic bayonet clasp hardware system invented by Jörg Heinz of Germany. The system provides great versatility and endless combinations of chains, pearls, clasps, and enhancers. My additional challenge was to incorporate my competition piece into the interCHANGE collection.
The pendant-clasp is crafted of 750 yellow gold and 950 platinum-cobalt alloy. A stylized pentagram with a five-sided frame, each curved segment contains a pentagonal terminal concealing the bayonet clasp mechanism. Each terminal is bead-set with round brilliant-cut black diamonds. Suspended in the outer frame, spiral five platinum guide rails, each set with round brilliant-cut white diamonds. Each of the guide rails hold one of the bezel-set fan-shaped, faceted coloured gemstones which come together and form a central circle. The bezels glide along the guide rails, made of magnetic cobalt-platinum. Rare earth magnets hidden behind each coloured stone retain the desired position. Once they are moved out from the centre, they reveal the oculus, or eye-stone—a hidden cabachon opal set in the pentagram's centre.
There are many iterations and multiples of the magical number five in Pentagram: 100 0.005-carat white diamonds, 25 1.5-mm (0.06-in) black diamonds, 50 strands in the 18-karat yellow and white gold cable neckpiece, and by co-incidence—or magic—the five coloured gemstones have a total weight of 15 carats. The black diamonds contain both the sum of all colours and the absence of light. White diamonds set in the guide rails represent the purity of colour and light. The opal oculus contains the full spectrum of the five elemental gems.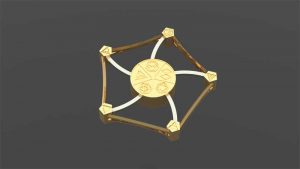 The five coloured gemstones signify the five elements of the pentagram. Embossed on the back of each of their bezels is the corresponding platonic solid or sacred geometry symbol of that element. The reverse of each terminal contains the alchemical symbol for the element it is connected to, as well:
amethyst – spirit – dodecahedron
spessartite – fire – tetrahedron
tanzanite – water – icosahedron
rubellite – air – octahedron
peridot – earth – hexahedron
Seeking perfection
I often only use CAD to give a design direction, but I quickly realized this design required accuracy only CAD provides. Of course, a great deal of hand fabrication is also involved in achieving my ambitious design—the mechanics required for gems to move so precisely takes a great deal of experimentation. I must give full credit to Matthew Todhunter for his precision milling of a complex project and Michael Stone for the attention to detail in the casting, hand-fabrication, and stone setting. It was a magical team!