The appraisal report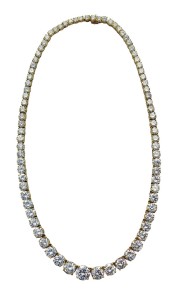 The starting point for the appraisal is to determine the report's intended use. This affects the report's content and/or discussion with the client, approach to value, and differences in opinion (if any). For example, you may be writing an appraisal report for orderly liquidation, dissolution of marriage, or estate taxes. For the purposes of this article, we will focus our discussion on appraisal reports for the intended use of obtaining insurance coverage, the type of value being 'replacement value, new' (for most cases) or 'replacement value, comparable' (when working with diamonds set in period jewellery). Also, for the sake of brevity, I will preface this section of the article by stating that I grade to GIA standards.
I grade the diamond as I see it, within the limitations of the mounting (if set) and my grading environment. In the diamond description, I state my grade and, when different, include the lab report's grade next to mine in parentheses. When there is a difference in measurements beyond the industry's accepted tolerance of ± 0.10 mm, I state mine, along with the lab report's measurements.
When the diamond is more than one carat and accompanied by a report other than GIA or AGS, I include my own plot of inclusions. I also include the laboratory name, date, and report number, and attach a copy of the report to my appraisal.
As per the ASA's report writing standards, I include an explanation of tolerances for mounted and unmounted stones in my report, which are as follows:
Diamond colour grading tolerance for unmounted diamonds is ± one grade;
Diamond colour grading tolerance for diamonds set in white metal is ± two grades; and
Diamond colour grading tolerance for diamonds set in yellow metal is ± three grades.
I also include an explanation of the diamond grading standards I follow, a diamond grading scale, definitions, and conditions that may limit my ability to accurately measure or grade the diamond.
At the 2013 Rapaport Diamond Certification Conference, RapNet presented the findings of its survey of laboratories that included GIA, IGI, EGL USA, HRD, EGL HK, and EGL Israel. Although the differences in grading standards may be factored into how the market adjusts diamond prices arrived at by each lab, the study revealed these differences were not always enough to account for the inconsistency among grading results.
I keep this RapNet study in mind when determining replacement value, which is based on my research of the market for diamonds as per my grade and grading standards. In addition, I research the market for diamonds accompanied by a report from the lab in question as per its grade. An explanation of this approach is prominently stated next to the value conclusion. Since I do not know how the insurance company will choose to replace the diamond, I want to ensure the client is covered for either scenario. All market research and analysis is saved in the client work file.