Putting the pressure on die-striking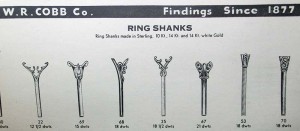 Die-striking is a process using immense pressure to form precious metal into a dense, durable shape. Die-struck rings are produced by taking a blank (i.e. a flat piece of formed metal) and striking it into an engraved metal die. One of the most common examples of die-striking is a well-made signet ring, which has a much more compressed molecular structure due to how it was formed. As such, it can be engraved, with superior results. The difference between hand-engraving a complex monogram in a cast signet and its die-struck counterpart can be likened to engraving on a bar of pumice stone. In a die-struck piece, you won't see any porosity or cracks, and it will have a higher heft, too.
Good-quality findings are very often die-struck. Engagement rings and wedding and anniversary bands of good quality are also often die-struck and assembled.
If you see trademarks from Jabel, Cobb, or Van Craeynest, you'll know these pieces were made from dies, some of which are more than 100 years old.
What to look for in a die-struck piece:
A mirror finish inside and underneath.
Sharp, crisp edges and a well-defined design.
Heft.
Findings, earring backs, pin assemblies, and clasps are often die-struck.