By Carole C. Richbourg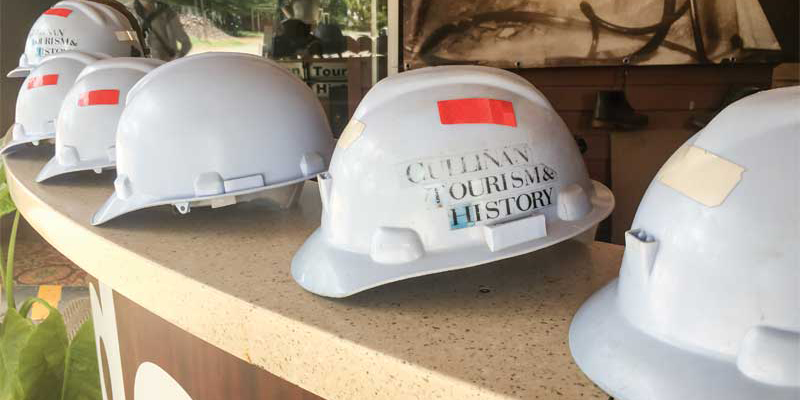 The Cullinan diamond mine, historically known as the Premier, is situated nearly 40 km (25 mi) east of Pretoria in the small town of Cullinan. First established in 1902, the mine made its mark in history when, in 1905, the Cullinan Diamond was found. Weighing 3106 carats, it holds the record for largest rough diamond of gem-quality ever found. Today, the mine is owned by Petra Diamonds.
A walk through history
I arrive at the mine just in time to jump into coveralls, socks, and rubber waders, and catch my tour. I sling the backpack they provided over my shoulder, and join the group viewing a short film about the history of the mine.
Our small group has quite the assortment of international travellers with couples from Israel, France, and England represented.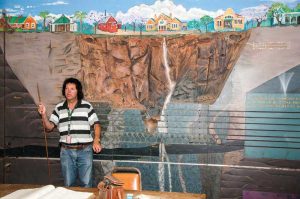 We proceed to a large room containing interesting historical memorabilia, which include photographs and information about famous diamonds found in the mine over the years, [see sidebar] and antique memorabilia: old bottles, tools, an early movie projector, photographs, and other fascinating objects such as a large topical map of the mine spanning an entire wall. Unfortunately, we don't have much time to look around, but I could have devoted another afternoon to these two rooms alone!
Safety first
Before the group can proceed underground, for safety and liability reasons, the mine ensures visitors are briefed on safety procedures. The seven-step instructional video we view details how to use the breathing apparatus that will save our lives in the case of an explosion, accident, or accumulation of toxic gases. Gases in coal and gold mines are worse than anything we might encounter in a diamond mine. Even our guide, a stoic and competent gentleman named Henne, has never had to activate his kit—he started working in the mine, then under De Beers ownership, in 1958.
Upon completing the video, it is time to receive the last pieces of our equipment: a breathing pack, headlamp, and proximity beacon.

Comings and goings
Trailing our guide, we walk a fair distance outdoors to the elevator cage which would take us 783 m (2568 ft) to the bottom. When De Beers owned the mine, the stated weight limit of this elevator was based on 106 people. However, when Petra acquired it in 2008, the load was reduced to 86 persons, as the weight of the equipment worn by the miners had not been taken into account.
We passed vast amounts of mined kimberlite, the rock closely associated with diamonds, which has come up from the mine; two large elevators draw up kimberlite 60 times an hour, 24/7, and long conveyor belts spanning metres carry the crushed kimberlite as it trundles along. The conveyor belts are flooded with water to further erode the sandy rock and expose any diamonds. The heavier diamonds sink to the bottom of the belt, so they aren't washed away. This is after much larger pieces are crushed.