How much does it cost to operate a 3-D printer?
The average yearly optional warranty and tech support coverage can cost anywhere from $2200 to $40,000 a year. Resin usually costs about $1.50 to $3.00 per model, while light bulbs or replacement jets can range from $1100 to $2000. The high cost of precious metals is also something to consider. A mill uses tapered cutters to do the fine detailed work, which can leave extra wax on the model. It may not be much, but with metal prices being what they are these days, the goal is to create as precise a model as possible for casting. A 3-D printer leaves no extra resin. In essence, what you design in CAD is what you get with a printer.
Training and tech support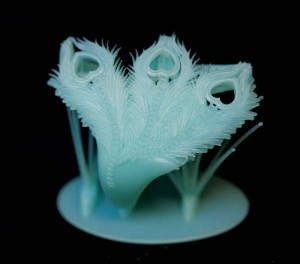 Mastering the mill or printer can be easier than learning CAD, and most suppliers offer two-day classes as part of the final price. It is quite possible to produce wax or resin models on your own within a day of being trained.
I can't stress the importance of training and tech support—your success depends on it. If you miss delivering a piece of jewellery on time due to the fact you couldn't get technical help, you've just lost a customer. And let's face it—word travels fast in cyberspace. You've likely also lost the potential clients you had among that person's family and friends. Facebook can be great for business or hurt it with the simple click of a mouse and a bad review.
So ask yourself, how many custom orders are you taking in a month? Seven or more can justify the purchase of a mill or printer in the $25,000 range, if you were to lease to own at 10 per cent interest. Compare that to using a service bureau. The average print job in Toronto or Vancouver is $85 for a standard 3-mm to 4-mm engagement ring. Milling can range from $40 for plain wedding bands to approximately $450 for bangles.
If you like having the best tools at your disposal and produce various types of jewellery, you may find yourself owning both a mill and a printer. However, make sure you have calculated the number of jobs you need to take in every month to realize a return on your investment. And start looking for a bigger desk.
*Fine-quality jewellery is often made in pieces to allow the parts to be pre-polished before they are assembled.
Shele Letwin is president of GV Design Canada, the authorized Canadian distributor of Gemvision and Envision Tec products. She is a graduate of the jewellery arts program at George Brown College, an award-winning designer, and CAD/CAM instructor. Letwin is often a guest speaker at trade shows and at the Gemvision Design Symposium. She can be reached via e-mail at shele@gvdesigncanada.com or (866) 299-1702.