By Emily Smibert
Walking up the shrub-lined path towards the entrance of his three-story Hazelton Avenue townhouse located in Toronto's prestigious Yorkville neighbourhood, visitors are greeted by an enchanting garden strewn with magical metal creatures beckoning them into the beguiling showroom oasis where Myles Mindham awaits. As the Canadian designer celebrates 25 years of Mindham Fine Jewellery, he shares his heart behind the new limited edition anniversary collection, the spirit on which he's built his company, and why he's excited for the future.
Catalyst for creativity
At 57, Mindham has accomplished what some designers only dream of.  From international design accolades and brand recognition to contest judging, a rolodex of worldwide clients, and growth from a hotel boutique counter to independent showroom with basement bench workshop, he's reached a level of success sometimes achieved over several generations. But it hasn't been without a lot of hard work, and an extraordinary commitment to excellence and sense of self.
A business graduate of the University of Western Ontario, Mindham's ascent into jewellery design and brand proprietary seemed natural. "I've always loved jewellery and always loved anything that sparkled," says Mindham. "It's what got me into business in the first place."
Mindham Fine Jewellery may be a small cog in what's considered fine jewellery in the grand scheme of the industry, but it's enough for Mindham. "I get to do what I love and work with an amazing team of 19 people and two black standard poodles named Duq and Nelson, and I'm doing something that creates happiness," he says. "A lot of people haven't discovered what we do yet, so that's why we come to work every day."
When it came time to reflect on his 25 years, the success he's had, and how it all happened. Mindham describes the journey as magical. "But where did that magic come from? Where did this creativity come from? Where did my fascination with miniaturization come from? I think I would have to say my childhood."
As a young boy, Mindham found comfort in the mystical stories his mother read to him and the miniature fantasy lands where they'd take place—places where magic was part of the reality. One story in particular, the tale of a flying bunny who goes out to seek his fortune in a miniature world, stood out among the others. "I believe creativity comes from a very personal and comforting place," he explains. "Miniaturization and tiny mystical things have always fascinated me, so for our anniversary I wanted to pay tribute to these stories with a dramatic jewellery collection, which emphasizes the sharp contrast of sparkling light against a foreboding fantasy forest."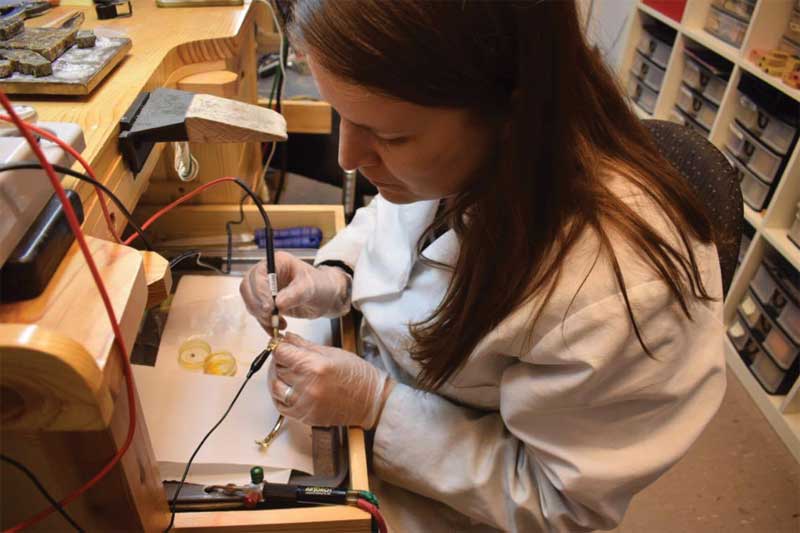 The collection
The 35-piece anniversary collection entitled, 'Magical Woodland,' is split into three parts embodying imagery from the story Mindham loves so much: Moon Fairies, Wings, and Mushroom Wishes. The anchor pieces—the magical forest amulet, the mushroom house brooches, flying bunny brooch,  and moon fairy ring—play off these themes, and the rest of the collection blossoms from them.
"Not everyone can wear the flying bunny brooch, but others can wear the wings. So we did a very simple motif in the collection with diamonds," says Mindham.
While the spectacular plique-à-jour bunny brooch is the central focus of the Wings collection, the other pieces are equally stunning. From delicate gold wing drop earrings, to double finger white diamond and gold rings, there is an option for every taste and price range—the pieces start at $280.
The Moon Fairies collection plays on the contrasting flash of light, as seen in the amulet, the glow of the evening moonlight lingering in the forest, and the streams of light and sparkles accompany forest moon fairies. Iridescent stones like chalcedony, quartz, Sri Lankan moonstone, opal, and pearl have been used to bring this motif to life.
"I love the way the light plays with the chalcedony cabochon pieces.  The flower ring holds a tiny surprise, and if you look closely you'll see there's a little moon fairy in there doing her job; she's opening the petals using her wings.  This piece is an expression about life's expression and bloom," says Mindham. "I really do believe mystical things happen in the woods because that's what I believed growing up as a child.