Just a brass pot?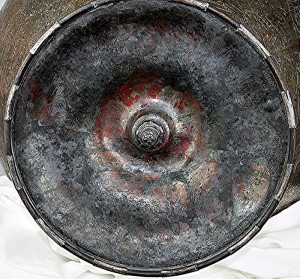 It began when I received a call from a fellow appraiser asking if I'd ever heard of Paulding Farnham. My colleague is a fine art specialist and her client had several pieces of jewellery attributed to Farnham that he wanted appraised. As good fortune would have it, I was very familiar with Paulding Farnham and had, in fact the year before, completed an appraisal of several pieces of jewellery he'd designed. My colleague referred her client to me. For those readers unfamiliar with Paulding Farnham, he was the lead designer at Tiffany & Co., from 1891 until 1902. His designs swept the gold medals at the Paris Exhibition of 1889 and 1900, which some believe effectively established the retailer's reputation as a worldwide force in the luxury markets.
In the course of our conversation, the client indicated he was having household contents appraised in a specific order; before the jewellery, he wanted a brass pot appraised. I referred him back to my colleague, although she had already declined the job. I then suggested another appraiser who specialized in residential contents, but he declined. I explained to the client it was beyond my area of expertise, but I would be willing to assist him only if he would permit me to bring in any necessary experts, allow sufficient research hours, and accept I would state in the appraisal the assignment was beyond my expertise and the specific steps I took to ameliorate that concern. He said the item probably wasn't a big deal—it had been in the foyer of his home for decades and just looked like a brass pot to him. An appointment was made and I was left puzzled by his rationale for having a brass pot appraised at considerable expense.
He arrived at my office with a large object in a blanket that didn't quite conceal a realistically rendered 3D silver bird peeking from the wrapping. Once the piece was safely inside and unwrapped, I was stunned. Sitting on my desk was a 406-mm (16-in.) tall vase created from a single piece of silver and copper Mokume-gane covered with engraved images and appliqué, including a high-karat gold representation of the Provincial Seal of British Columbia"¦ and there was that silver bird perched on the rim! Even though the surface was heavily tarnished, it was clear this was an extraordinary piece. Once again, I attempted to extract myself from the assignment as I explained to the client this was not the 'simple brass pot' he'd described over the phone and was very likely an extremely valuable item that was going to require significant research. He'd driven more than 320 km for the appointment and was in no mood to take no for an answer. We came to an agreement concerning the intended use of the report, scope of work, and fee structure; he left and I called my insurer to increase loss coverage and made room in my safe for the vase.
Where to begin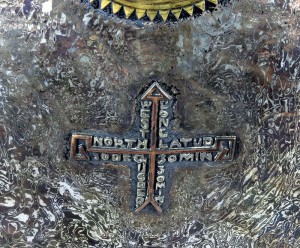 As I began the process of evaluation, it was obvious that being able to attribute this item directly to Paulding Farnham was going to be extremely important to the value conclusion. Unfortunately, all I knew as a fact was that the current owner was a direct descendant of Paulding Farnham. Careful examination also showed it was not signed by Farnham or by Tiffany & Co. Instead, there were five other names stamped onto the bottom of the piece that I didn't recognize. The design, finish details, execution, and materials were all consistent with Farnham's work during his tenure as lead designer for Tiffany & Co., but without a signature, it would be difficult to convincingly attribute the piece to him without further evidence.
I contacted one of the leading authorities on Tiffany & Co., hollowware; they agreed it "looked right," but there were no records in the company's archives of anything like it. I contacted leading experts in Mokume-gane and was told that in 30-plus years of study, they'd never seen or heard of a raised Mokume-gane vessel of this size; in fact, they'd heard of nothing of this size in North America. One of the experts did offer that only Tiffany & Co.'s workshops were producing Mokume-gane in-house during the late 19th and early 20th centuries. That was interesting, but I needed to look for evidence in the piece itself. There was an astrological chart engraved on the vessel with a significantly oversized moon symbol. A crescent moon of this exact shape was a secret symbol used as an expression of affection between Paulding Farnham and his wife, Sarah (Sally); again, interesting, but not conclusive. There was a compass rose applied to part of the vessel, along with numerically expressed latitude and longitude that correlated to a location in the Selkirk Mountains of British Columbia, which tied in with the provincial seal. At last, a clue!