By Carly Midgley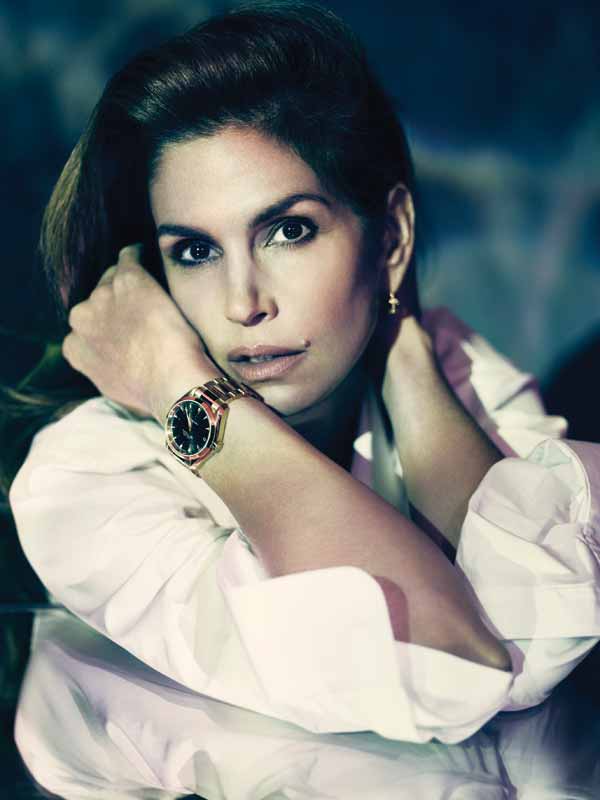 When you think of Omega, it's hard not to think of Cindy Crawford.
Crawford joined the watch company as a brand ambassador in 1995 and, it seems, hasn't looked back since. She was instrumental in designing its iconic 'Constellation' timepiece and has lent her voice, face, and unmistakable grace to countless products and initiatives over the past 24 years.
With such a long and storied partnership, there are plenty of highlights and hallmark moments to look back on. For our annual watch issue, Crawford sat down with Jewellery Business to reflect on some of those milestones—and gave our cover a touch of her signature style.
JB: What have been some of the biggest highlights of your 24-year run as brand ambassador for Omega?
CC: Being with Omega has been such an honour. I joke that I've been married to this brand longer than I've been married to my husband! I have so many Omega memories. The very first one was the first campaign I shot for the 'Constellation,' which was with fashion photographer Herb Ritts. One of the highlights would definitely be India, where I somehow ended up on the back of an elephant—but the most meaningful trip I've done with Omega was to Peru. The brand had partnered with Orbis, which is the Flying Eye Hospital, and I took Kaia with me. It was just such an incredible trip because seeing the work Orbis does and being able to expose my daughter to hands-on philanthropy was such a gift to both of us.
JB: In 2017, your children Kaia and Presley Gerber joined you as Omega brand ambassadors. What do you hope this experience will mean to them? What do you hope they will learn?
CC: I'm excited for Kaia and Presley because I know what a long and rewarding relationship it's been in my life and I know the brand will take great care of them. You really do become part of the Omega family. Kaia has already come along to so many of my Omega experiences. There was the Olympic Games, but the kids also came with me to Hong Kong and Mumbai. They know all the people at Omega. They already felt like part of the family, even before we shot the first campaign. It's great when I can expose my children to travel and the world. With Omega, we're doing charity work, so I thought it's great for them to see how you can use your voice to give back.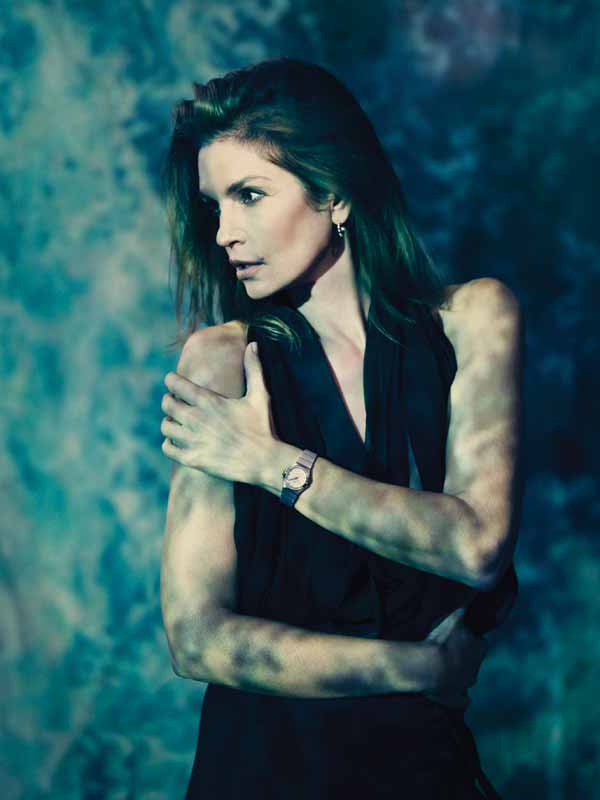 JB: Tell me about the Constellation 'Manhattan.' What is your favourite feature of this new take on a watch you originally helped design?
CC: I think this whole new redesign will just make it that much more relevant for today's styles. It's slightly more feminine, just in some of the little details. What I really like is how sleek it is, and again, what I've always loved about the Constellation is how it feels more like a bracelet than a watch. It's just super easy to wear and go from day to night, it's comfortable, and it simply goes with everything.
JB: What do you believe is unique about Swiss watchmaking (and Omega timepieces in particular)?
CC: With the watchmaking, I always think back to 1995. I was a young model and I got invited by Omega to come to Switzerland, meet with the watchmakers, and learn about movements and see the insides of a watch and all the teeny tiny little pieces. I could never have imagined what goes into making a precision timepiece. It gave me a whole new appreciation for the quality and workmanship Omega puts into its watches. Also, with the Constellation, for example, the new models are very feminine as well as timeless and they're constantly reinventing themselves. Those are all Omega qualities.
JB: A luxury watch is much more than a time-telling device. What do you believe a person's choice of watch conveys?
CC: We all know no one needs to wear a watch anymore. I mean, a watch used to be essential—if you were in Manhattan in the '80s and you had a meeting, you had to look at your watch. Then, you had the gigantic cellphone that looked like a brick. Today, no one needs a watch, so even more now, your watch is for your style. It's an accessory. So I think for women, it's the same. It's part of your personal fashion and it's an expression of who you are.