By Carly Midgley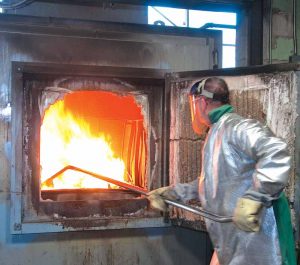 In an industry rife with fluctuation, it can be difficult for anyone to confidently claim they know how to achieve success. For David Siminski of United Precious Metal Refining, however, the solutions seem only natural: communication, collaboration, commitment, and a finger on the ever-changing pulse of the market.
United is a manufacturer and refiner that focuses its business on three key areas: products, refining, and analytical/metals testing. Founded in 1988 by Mel Bernhard, Mark Herman, and Paul Barker, the company began with an agreement–if any one of the three founding owners left the company, the other two would follow suit. In 2006, the trio did exactly that, selling the company to then-minority owner Vincent Guadagna. This philosophy of stability, integrity, and commitment still characterizes the company today.
"We don't have a lot of turnover here at all," says Siminski. "Our people are our biggest asset. We're not doing a ton of retraining or recruiting, which means we can concentrate on our customers' wants and needs. [Our employees] have carried that knowledge all the way through, so when we're selling products, or when a jeweller, manufacturer, caster, or even a bench jeweller has a problem, we're ready to help because we have been there. We already know what the problem is because we've experienced it before, so we're able to resolve it quickly."
It's this kind of attention to the people within the industry—employees and otherwise—that helps United effectively navigate the often-chaotic jewellery market. As Siminski puts it, "the jewellery industry is very large, but it's very small at the same time."
"I believe—and our company's core belief is—if you do a good job for your customer, and you build that relationship and rapport, that customer is going to be your customer for a long time," he says. "Every order, every refining lot, every analytical service is important, no matter how small or how large the company you're dealing with is. If they remember that you treated them with respect and you serviced them well, that always carries."
Green and clean
United maintains its philosophy of fair treatment and attentiveness on a larger scale as well. Like most manufacturers, the company cannot avoid using chemical products, gas, and utilities over the course of conducting its work. It keeps a careful eye on the environment to minimize its impact, checking air and water quality on a regular basis to protect its employees as well as the planet.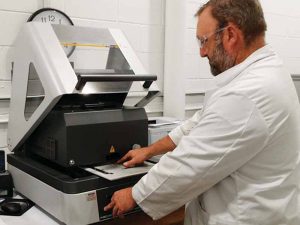 "Everything needs to be green and clean. We have our own water treatment facility right in our plant, which means whatever water is brought into the building, when we discharge it, it has to be just as clean as when it came in," Siminski explains. "It's a big initiative to make sure we're good to the environment. We want to do a good job, and we want to be a good partner—not only to the industry we serve, but also to our own community around us."
Sustainability is built into the company's refining activities in a more intrinsic way as well.
"We only deal with jewellery or pawn businesses, so our metal is always recycled," says Siminski. "We're constantly reusing it. The jeweller buys metal from us, he manufactures, he sends it to us for refining, we clean that up again—so we're not disturbing the Earth or anything. The metal that's being purchased and our products are constantly coming from recycled sources."
The golden touch
United's attention to industry-wide issues may in part have been honed by its role as a refiner. A refinery's business, after all, can often be determined by what people want—or at least, by how much people want one thing: gold.
"A lot of the refining industry is sensitive to market pricing," Siminski says. "When the gold price increases significantly, you get a lot more gold coming through the door. When it decreases, a lot of that volume dries up."
Of course, Siminski is well aware of the fact gold prices are not the only sector of the industry that can be rocky. United has a keen sense for many growing problems in the market, recognizing that for the business to continue, it must find a way to address common woes like low opportunity for innovation and flagging consumer demand.
"When it comes to colours in jewellery, you basically have yellow, white, green, and pink," he says in one example. "The problem is a lot of people would love to see purple and blue and black, but from a metallurgical standpoint, they're very difficult to create. We've made them before, but they're nonworkable for the average jeweller. So innovations are very tough."
However, he notes, perennial favourites such as yellow gold help solve this problem by allowing the industry to "recycle itself," with trends coming in and out of fashion with the passing of time.
Capturing the modern consumer
In the eyes of United, the industry's true biggest challenge stems from the same source as its biggest asset: people.
"For the last 10 years, consumers have been buying smartphones and electronics," says Siminski. "[The jewellery industry] has to do a better job of advertising to the consumer, so the consumer can actually be curious and start to not only buy jewellery but pass it down through generations. Jewellery tells a story. An iPhone doesn't tell a story."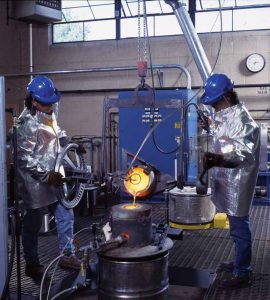 Siminski notes the lack of national jewellery promotion since De Beers' famous diamond campaign as one example of this problem in marketing. Fragmentation within the industry can also make it difficult to identify and resolve problems. However, every problem has a solution, and for United, the solution to this issue lies in the strong principles of commitment and collaboration that have carried the company since its founding.
"A lot of the time, the industry fights with itself when we should really all be making a collaborative effort and doing major marketing campaigns," Siminski says. "We should be helping each other get those consumers into the stores, because once they're in the stores and they buy jewellery, then those retailers go to the wholesalers or they go to the trade shows to buy more jewellery to sell. By creating this demand, we generate business. It's all a chain effect. Sometimes you've got to put your own wants and needs to the side and do what's best for the industry, because that will help everyone in the end. Collaboration and education are huge, both within our industry and to the consumer."
Filling the jewellery box
In other words, the people of United Precious Metals hold no delusions regarding the difficult market facing the jewellery industry today. However, the company also recognizes what's essential to any recipe for success: resilience, resolve, and human connection. With these qualities at the fore, the company sees a hopeful—and profitable—future ahead.
"I travel about 175 days a year. Shows, international travel, domestic travel—all over the place. And when I'm flying home, or I'm driving by a neighbourhood, I think of how every house has a jewellery box," says Siminski. "Some are really full, and some aren't—but there's the opportunity to do it there. There isn't a house that doesn't have a jewellery box."