By Patrick Dacko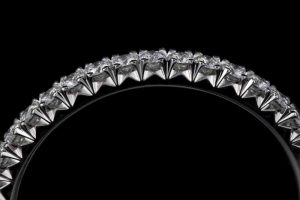 Setting has become an integral part of jewellery making. From the simplest set styles to today's extremely precise pavé techniques, the importance of stone setting cannot be emphasized enough. I became a setter because I love the meticulous nature of the work, the problem solving, and the extreme care and preparation that go into making a superb piece. The result is always rewarding and beautiful.
My experience studying under European masters gave me a unique understanding of how setting work is done, how complex problems are approached, and the importance of adherence to the process. From my time spent in these workshops, it appears this last factor—process—is the most important aspect of setting. It is vital to understand how to prepare an item for setting and what to expect when you receive the final piece.
Preparing with precision
How an item is prepared for setting is intrinsic to how its eventual beauty and craftsmanship turn out. Just as with manufacturing, following certain rules allows the job to be seamless, and this results in a better finished piece. Technology has simplified the pre-work for jewellers; most of the rings I work on are 3D printed using computer-aided design (CAD): a design turned into a mathematical model. CAD allows one to lay out the stones and use specific dimensions; as a result, one can create intricate designs and achieve highly precise setting work.
However, one must carefully look at each step to ensure the original intent is still present. As an example, are the edges rounded or sharp? Are dimensions consistent and symmetrical? Is there enough metal for certain types of setting work (fishtail versus bead setting)? These kinds of simple oversights can be avoided if all the different manufacturing elements work together. Another key component of setting work is the measurements of the stones supplied; they should be calibrated with utmost precision and checked for flaws and symmetry.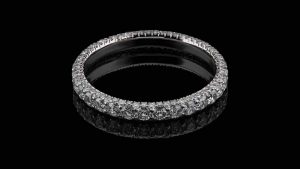 For precise pavé work, calibration is extremely important. I would recommend diamond calibration to a quarter sieve plate for ideal results. This is the easiest way to ensure diamond sizing matches the setter's round burr size. As an example, if one would like to use 1.5-mm (0.059-in.) diamonds, for perfect results, the tolerance should be 1.475 to 1.525 mm (0.058 to 0.06 in.). This type of tolerance allows for better layouts and minimizes stone breakage; quite simply, it contributes to ensuring better workmanship.