Satisfying the masses

Gem-quality Burmese jadeite is extremely rare and thus extremely expensive. Well-matched imperial colour (i.e. emerald green) jadeite beads have sold for more than $1 million US at Christie's and Sotheby's auction houses in Hong Kong, a major international jade market.
The availability and consistency of high-quality green nephrite has made this material an acceptable alternative to the more valuable Burmese jadeite.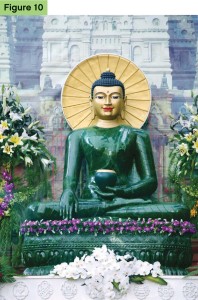 According to Makepeace, it would have been impossible to find green nephrite a few years ago in Guangzhou, China, the centre of the jade market. Today, however, hundreds of vendors can be found selling Canadian and Russian nephrite, mostly in the form of bangles ranging in price from $1000 to $10,000, as well as other jewellery and carvings. Makepeace says his retail outlet in Vancouver has seen its sales double in the past 12 months, with Chinese tourists buying product there for a fraction of what it would normally cost in China. Canadian nephrite jade can range in price from $10/kg for the lowest grades, which are suitable for industrial purposes like tiles, to over $1000/kg for the rarest gem-grade material.
Local artists transform the best B.C. nephrite into works of art, the most noteworthy perhaps being the Jade Buddha for Universal Peace unveiled in 2010 at the Dai Tong Lam Monastery in Vietnam. Viewed by millions of people around the world, the nephrite statue was carved from an 11,000-kg boulder and is valued conservatively at $5 million US (Figure 10).
Canada's relatively small domestic consumption of four to five tonnes per year supplies a few successful jade artists of world renown. Awareness of the availability of Canadian jade has also led to non-traditional uses of this stone, with such notables as fireplaces in the Getty Mansion and translucent window panels in the Smithsonian.