By Brian Land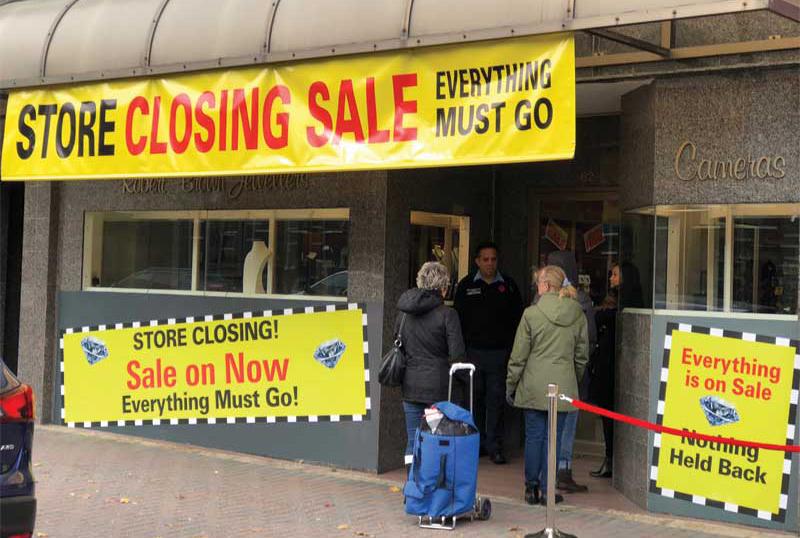 Unfortunately, this article's title has nothing to do with the 1982 hit song by the English punk rock band The Clash! Rather, it is a question many independent retail jewellers might be asking themselves as the 'new normal' takes shape amidst the COVID-19 pandemic.
In a thought leadership report published in June titled, 'Small Business, Big Pivot,' the Royal Bank of Canada (RBC) noted, "business exits always increase during downturns," adding that non-essential retail was one of five sectors considered to be most vulnerable due to the national lockdown.
Additionally, the report found "few small businesses can withstand even a moderate revenue hit that lasts several months." Of course, for independent jewellers, this condition is exacerbated by a notoriously high operating cost structure, onerous debt loads, and the threat of consumers postponing discretionary purchases. RBC's report also raises questions regarding the effect physical distancing policies and new habits around personal interaction will have on the process of selling product. There is no doubt this will impact jewellers (think: engagement rings).
In light of these concerns, some retail jewellers might decide this is an opportune time to leave the business, but what should you do if you elect to go? Traditionally, there are three choices.
Passing the torch
You might choose the succession route, where you step back from the business and pass it on to a family member. Other than the legacy issue, the advantage to turning your operation over to a qualified family member is this option could provide you with a continual source of income with minimal involvement in the business.
The difficulty with this scenario is the notion of someone 'qualified.' Does the next generation have the same requisite skills and passion necessary to drive the business? The jewellery business is competitively tough and about to get tougher. Are your children prepared to make the necessary sacrifice to their work-life balance to support the continual challenges of the business? Given the prospect they might fall victim to the 'law of diminishing returns' and long hours, reinvention may be difficult to sell in a succession discussion.
Up for sale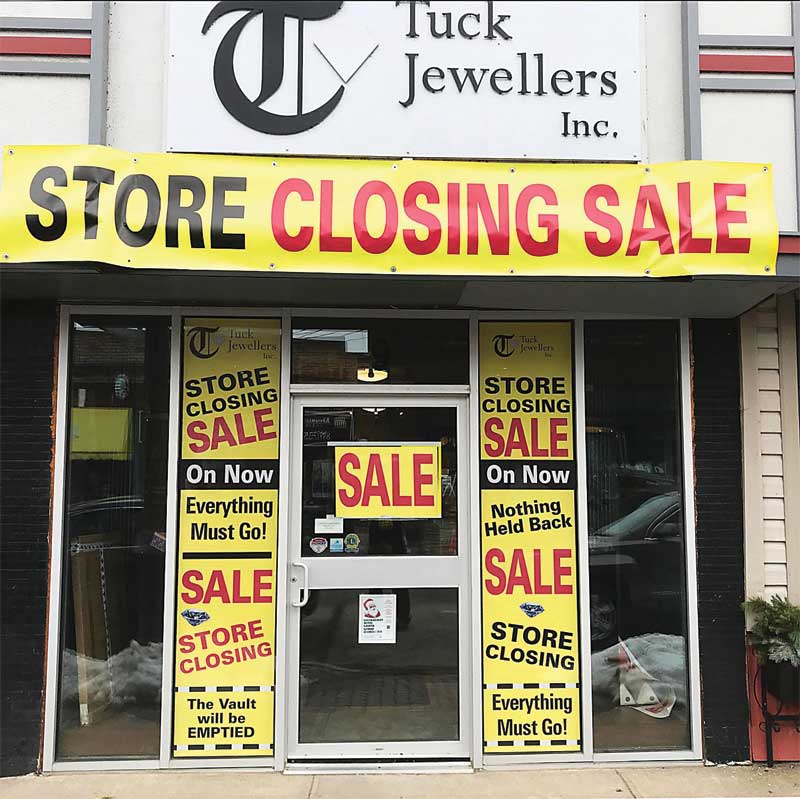 Rather than sorting out a succession plan, you might, instead, try to sell your business. In the past, it was not uncommon for a jeweller to fund all or part of his or her retirement this way. Stores would often be sold at a fair market value that reflected both tangible assets (e.g. inventory, equipment, fixtures), as well as intangible assets, such as goodwill, which reflected the 'going concern value' of the business (i.e. future sales and profits).
Today, however, jewellers who are considering selling their business face two problems: a lack of a market and an absence of a buyer prepared to pay a premium representing fair market value. If you want proof there is little to no market activity for jewellery stores, simply search online for shops for sale in Canada or peruse the classified section in this magazine.
Recently, this author spoke to James Graham, owner of Graham's Jewellers, Ltd., in Courtenay, B.C.  The current iteration of his successful business was established by Graham's father in 1970, who sold it to his son in 1988. Graham's Jewellers is about to celebrate its 50th anniversary. The business, according to Graham, has been very good to him; however, with two grown daughters who are both in the teaching profession, a succession strategy wasn't in the cards. Thus, in May of 2019, he decided to put the business up for sale.
When asked what had transpired since listing the store, he lamented it has "not been an easy thing to sell." He had one serious inquiry but the buyer was not properly capitalized. In fact, James now believes if he continues to offer his business for sale, he may have to extend credit to the prospective buyer. As the former executive director of the Canadian Jewellers Association (CJA), as well as an observer of the industry for more than 40 years, this author can attest to the increasing difficulty facing jewellers who want to exit the business. Time and again, the association heard from members who had decided to shut down their businesses because they did not have a successor or a buyer.
Unloading the details
Finally, the third alternative is to liquidate the business. Liquidation is generally marketed to the consumer as a 'retirement' or a 'going out of business' sale. If you choose this route, the next thing to consider is who will execute the sale? Do you operate it yourself or hire a retail liquidation specialist to manage the event?
In a 2016 article in National Jeweler magazine, Ohio-based jeweller James Alperin noted hiring a company to help him sell his business was very beneficial, as it helped guide him through the process, as well as sell most of his inventory.
"If you need your house painted," Alperin wrote, "you hire a painter. If you need electrical work done, you hire an electrician. You hire professionals to do jobs you are not proficient at doing yourself."
Indeed, having the support of a helping hand can be invaluable, especially when preparing to close a business that has been in the family for decades or even centuries.
Tuck Jewellers, Inc., was established in Port Colborne, Ont., in 1900. Robert Tuck was the fourth generation to operate the business and, in November 2019, he made the very difficult and emotional decision to close his business. Tuck hired an outside firm to formulate and execute his exit strategy. 
His reasoning was simple: he had been thinking about packing it in for a few years, but knew when the time came, it wouldn't be something he could carry out himself.
The firm worked closely with Tuck to develop a strategy customized to his store and the community of Port Colborne. Sales targets were set, fresh merchandise to augment the store's selection was ordered, product planograms were prepared, marketing plans were designed, operational objectives were identified, and an on-site marketing consultant was assigned.
"Jewellers know what they're doing when it comes to marketing, but, unlike other events, you only get one shot at a store closing sale," explains Bruce Macdonald, CEO of Silverman Consulting and Retail Services, which handled the store closing for Tuck Jewellers. "The stakes are high and there are no do-overs."
The sale lasted about nine weeks and, as Tuck puts it, the results were "monstrous." The revenue target, which was based on the previous year's sales were more than double. Further, he sold approximately 90 per cent of the store's asset inventory, with the remaining 10 per cent sent for melt. Tuck was also able to unload fixtures, equipment, and furniture, as well as sublease the retail store space.
Tuck added he was impressed by the excitement the sale generated and by the fact his only role was to show up, sell and handle media interviews. The consultant did the rest.
Looking forward
When it comes to making the difficult decision to leave the jewellery business, there are a few options jewellers can consider. Each has its own advantages and disadvantages. The key is to evaluate which option works best for you, and know that whatever you decide, there are organizations and outside businesses there to help.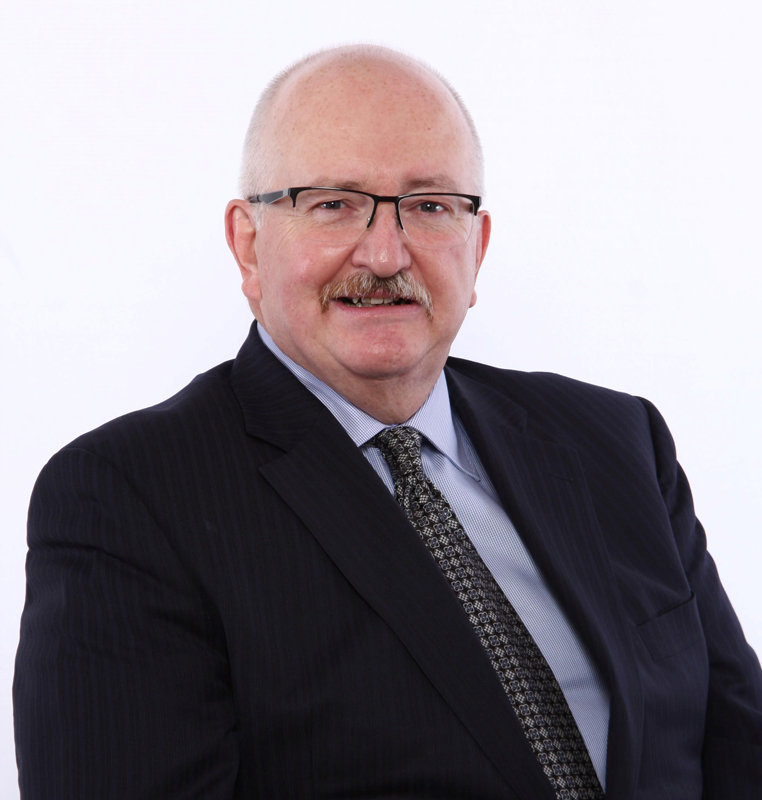 Brian Carney Land is a retail jewellery consultant. Formerly the executive director of the Canadian Jewellers Association (CJA), Land has more than 40 years' experience in the industry and has held executive roles with Peoples Jewellers, Birks Jewellers, and Waterford Wedgwood Royal Doulton. Past clients include retail chains, independents, and supply side businesses. Land is a past-president of Jewellers Vigilance Canada (JVC) and the Canadian Jewellers 24 Karat Club, as well as a long-time member of the Georgian College Jewellery and Metal Arts Program. If you need assistance or further advice regarding liquidation the information mentioned in this article, contact Land at bland19@bell.net.