By Carly Midgley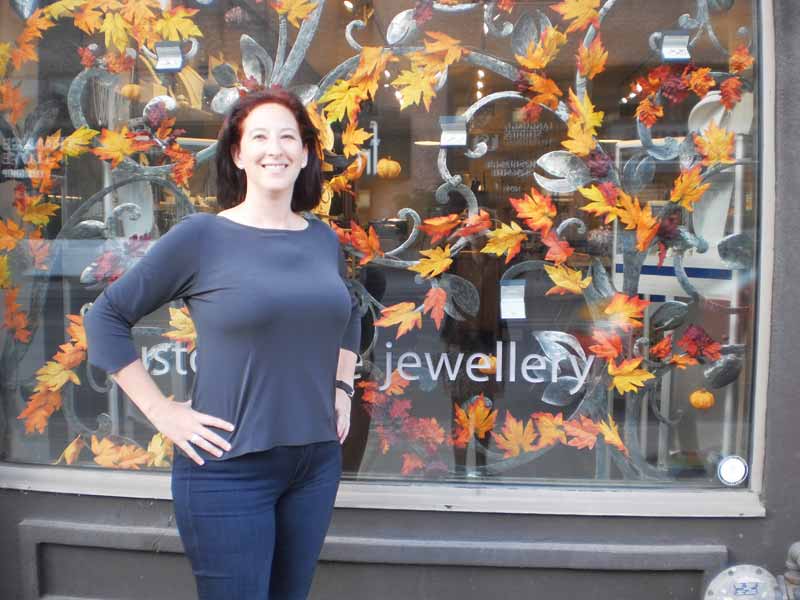 What do navigating the legal system and shopping for an engagement ring have in common? Many people might be hard-pressed to find an answer to this question, but for Tamara Kronis, owner of Toronto's Studio1098, the link between the two is not only clear, but also a crucial element of her approach to business.
"Both worlds are murky and intimidating and have reputations for being shark-infested waters," she says. "Your job in both is to put clients at ease—to answer their questions, to make them feel more comfortable than they expected to feel in that environment, and to make sure you really deliver excellent value and a better experience than they were expecting."
Finding empathy in industry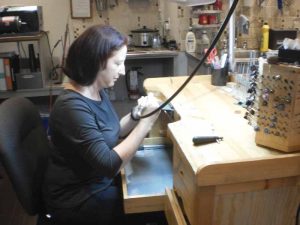 Now a goldsmith, Kronis first started her career as a commercial lawyer at a large Bay Street law firm before switching industries 14 years ago. With degrees in law, political science, and politics and economics, she has experience working at the International Criminal Tribunal for the Former Yugoslavia and has clerked for Aharon Barak, President of the Israeli Supreme Court. While her great-grandfather and three of her great-uncles were goldsmiths, the tradition ended by Kronis's parents' generation, leaving little family connection to the industry.
Despite this, Kronis says she has felt drawn to the artistry of jewellery design for much of her life.
"The first time I sat down at a bench and picked up a file, I knew that goldsmithing was for me," she says.
Kronis eventually enrolled in George Brown College's gemmology and jewellery arts programs, becoming qualified as a gemmologist in both Canada and the United Kingdom. She believes this transition gives her a unique perspective that underlies her business success.
"I don't think there are a lot of former lawyer, gemmologist, first-generation goldsmiths," she says. "Having gotten engaged—and, frankly, having gotten married—before I was a goldsmith, I think it is easier for me to put myself in the shoes of my clients than it might be for other people. I remember what it was like to not know any of the words to describe jewellery, and we have an industry that is filled with jargon."
According to Kronis, this kind of empathy is critical to her success in the jewellery industry—and it must be exhibited by her team as well. Business-wide commitment to the satisfaction of each customer is essential to preserving clients' loyalty and maintaining high standards of performance.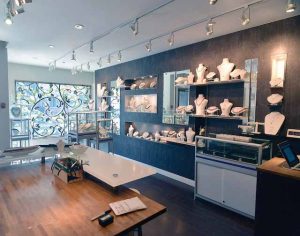 "The goal of this business is to deliver every piece of jewellery that we agree to create on time in a way that exceeds client expectations," she says. "If you think about what kind of culture you have to create internally to be able to have that as a goal, it takes commitment—not just on my part, but also on the part of all the people who work with me."
What form that commitment takes can vary, but overall, Kronis says, it translates to a focus on earning customers' trust and easing the decision-making process. Studio1098 relies less on a traditional high-pressure sales environment, favouring instead the creation of an atmosphere that is upfront, approachable, and grounded in a strong knowledge base.
"We want to help our clients make informed and thoughtful choices," Kronis explains. "We want them to be able to propose or give a gift or enjoy their jewellery—depending on what kind of project it is—with confidence, and we really want to take the extra time that it takes in the design and creation process to make it a little bit less intimidating, a little bit more accessible, and just a little bit more friendly. When people come into a place that's approachable and accessible, they're coming into a place where they can breathe. They're coming into a place where they can think."