Made in the shade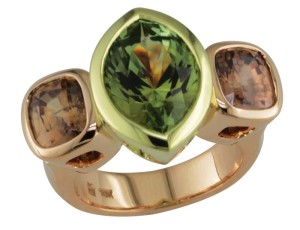 Jewellery-specific technology and equipment have come a long way since the early 20th century. For instance, the development of induction melting furnaces using inert gas atmospheres has made it possible to combine metals in ways that were impossible previously. Preventing oxygen from contaminating these alloys is critical. Some blends are appropriate for cast pieces, but fabricating or repairing with a torch is not possible. They do respond well, however, to welding with laser machines. 
Our industry lost a huge talent in the metallurgist/jeweller/alchemist Stephen Kretchmer when he was tragically killed in a vehicle accident in 2006. In his all-too-short life, he developed many innovative alloys. His heat-treatable platinum—which incorporated special heating and cooling techniques post casting and finishing—vastly increased the metal's hardness and springiness to permit very secure tension setting of gemstones. Kretchmer also developed magnetic platinum alloys, which he used to create earrings with floating components suspended in magnetic fields. In addition, he came up with better purple and blue gold alloys, although gold mixed with aluminum or iron is extremely brittle and must be treated more like a gemstone than metal.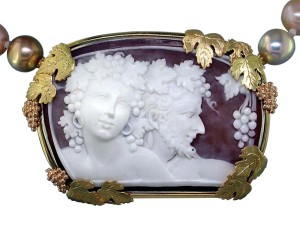 Rose gold has gained much popularity in recent years due to its use by larger commercial jewellery brands. Degrees of 'pinkness' can be achieved by varying the amounts of copper and silver in the alloy. Next to white gold, rose is the hardest of coloured alloys. It can also be more difficult to cast and fabricate when its components are not in the right proportions. That said, it combines well with pink, red, and earth-toned gemstones. I particularly like the combination of rose gold with white gold or platinum. The pink colour warms the white metal, while the white colour softens the intensity of the pink, creating good balance in a design.
Green gold is pure gold combined with pure silver. Both 14-karat and 18-karat alloys can offer a good green colour that is attractive when used to set green gemstones, especially those with a yellowish cast, such as some garnets and peridot. It is, however, the softest of the coloured alloys. Although it is easy to pavé- or bead-set gems in green gold, it is perhaps not the best material for delicate openwork designs that will be subjected to hard wear. It also combines well with rose gold for two-tone designs.
Yellow gold alloys offer a wide range of colour, achieved by varying the proportions of copper and silver. Adding more copper skews the colour to the rose end of the spectrum, while higher silver content makes it green. All yellow gold alloys contain trace elements of other metals to improve workability.