By Sonja Sanders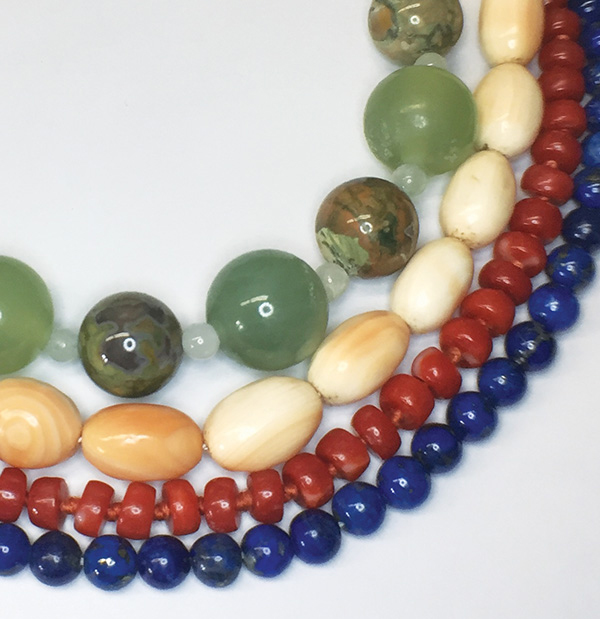 In the varying compartments of our lives, we see beads in many different ways, including religious tradition, home decor, and even in nature with drops of water. The ornamental possibilities of beads are truly endless. Indeed, these little decals are everywhere—from clothing and accessories, to lighting fixtures and chandeliers, to wall hangings and art. Of course, for those of us in the jewellery industry, we tend to be most familiar with beading in necklaces, earrings, bracelets, and anklets.
First crafted from animal teeth, bone, wood, and other organic material, beads have been around for more than 100,000 years. As we evolved with more sophisticated tools and inventions, beads were later made of gemstones and minerals, clay, metals, and glass.
A lasting effect
Why, though, have beads remained so consistently significant throughout the ages? For starters, humans love symbolism—and beads suit this role to a T.
Dating back to their inception, these decorative droplets have served as symbols of status and were traded all over the world. Some particularly superstitious cultures wore beads (often specially carved) as good luck charms or as amulets to help ward off evil or offer protection.
How are they made?
For as long as people have made pottery, they have also created beads. The earliest beads were crafted using stone, then shaped and carved with whatever sharp tools were available.
Early makers of brass beads were located in the Middle East, Western Africa, Europe, and Ghana—these stones were even faceted and polished. Likewise, in some locales, early glass beads were created by pressing molten glass with metal paddles.
Indeed, even today, beads are crafted in a variety of ways, with some techniques dating back thousands of years. While some present-day fabricators prefer to make beads in more traditional ways, others have embraced the mass production possibilities that can be achieved using modern technology. Efficient fabrication allows for more time to be spent adding coatings and other special effects.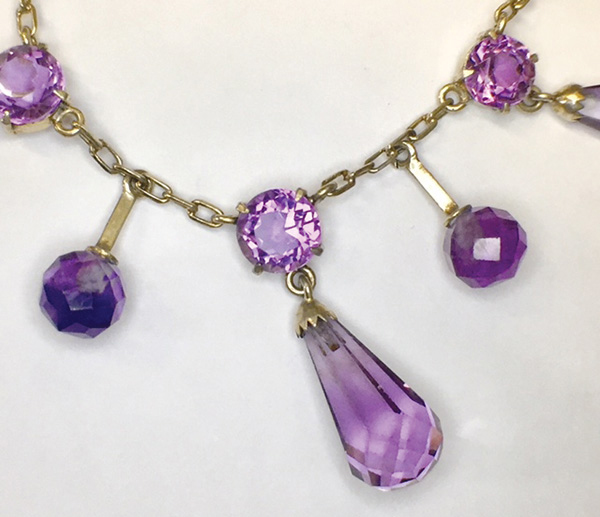 Fabricators in Western Africa are known for crafting fused beads, whereby a fine, powdered glass is mixed with dyes. After firing and piercing the holes, the beads are hand polished.
Meanwhile, seed beads are made from glass rods, drawn to the appropriate circumference. Pieces are sliced from the tubes at measured intervals, then placed back into a furnace, where they are heated, and their sharp edges are rounded. In another method, the molten glass is wrapped around a mandrel or metal wire and while it still soft, then embellished with detail.
To aid in jewellery fabrication, beads made of glass and some other materials can be crafted using a mould with pre-established holes for stringing (Bohemia in the Czech Republic is known for its moulded beads). A tell-tale sign of this process, however, comes in the form of a line running along the bead. To create a seamless look, many localities prefer, instead, to pierce beads with metal pins after they are formed. In modern processing where there is mass production, moulded beads are tumbled in large barrels. Following this, they can be polished, faceted, or go through the processes of coating for special effects.
A matter of substance
Many cultures are known for the materials used to craft their beads. Early Egyptians, for example, were popular clay bead makers, while Afghanistan and its surrounding areas are noted for using lapis lazuli. Meanwhile, in looking at Greek history, we see use of bronze and copper. Historically, other geographic areas have provided the trade with beads of amber, jet, turquoise, jade, agate, and pearl.
Glass
For more than 5000 years, jewellery trendsetters and appreciators alike have enjoyed decorative spheres made of glass. The early Romans developed advanced ways of melting this material. Using extremely hot kilns, these trailblazing fabricators refined their skills and were able to trade beads of incredible colours and patterns. Indeed, these craftspeople were so successful, they were able to produce beads quickly, efficiently, and, as such, cheaper than earlier groups. They traded with everyone they could, by land and by sea. Due to this practice, early Roman beads have been found around the world.
The Island of Murano, located within the Italian province of Venice, is reputed to be the world's centre for glass bead production (along with other famous glass items). By the late 1400s, famous Venetian glass makers had settled in Murano, where they produced beautiful glass items. Today, we have a great appreciation of the silver and gold leaf embellishments perfected in this region, as well as the aventurine effect, which uses copper and glass.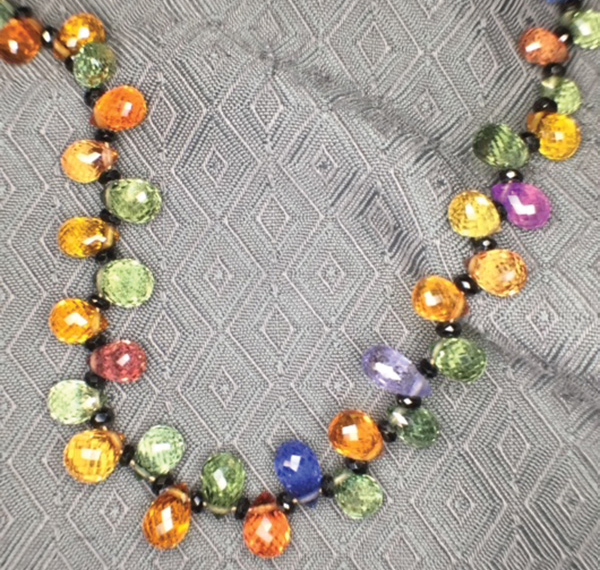 Glass beads are amazing in their versatility, as the material allows for many special effects. Skilled craftspeople are able to produce endless colours, striped and chevron patterns, and special embellishments.
Jet
Vintage bead collectors look for specific pieces, and, among these, jet (i.e. fossilized material from the Araucaria tree) remains highly sought after. Its popularity dates back to the mid-1800s, when Queen Victoria famously incorporated the black substrate into her mourning jewellery. The selection put its source—the seaside town of Whitby in Northern England—on the map, with many tourists flocking to the area simply to own a piece of jet. During early production years, beads and other items were carved by hand. The introduction of the lathe, however, allowed fabricators to turn out beads much faster, providing a larger supply to meet increased demand.
Garnet
Woven garnet bead necklaces, which can be very intricate in design, have long been popular for those in search of unique statement jewellery. Indeed, vintage pieces (when in good condition) always seem to be in demand at auction and beyond.
Today, we can see a huge price variance, depending on the type of garnet, cutting style, and quality, with prices ranging from a few dollars to thousands.
Quartz
Mined worldwide, quartz pieces were worn as talismans by many ancient civilizations. Today, quartz is still a 'feel good' natural gemstone, with many favouring it for its healing and spiritual properties.
Popular bead varieties include colourless crystals, amethyst, citrine, and rose quartz. Some antique or vintage strands showcase beautiful faceting work or carved decorations on the beads. Again, many collectors who appreciate these gems are willing to pay thousands for a well-presented strand.
Endless styles
While some consider beaded jewellery to be an accessory exclusively for summer, for many admirers, these pieces are a staple year 'round.
What's more, for the modern bead-loving fashionista, anything goes—single or multiple strands, twisted, straight, or multi-textured designs, contrasting colours, and beyond. It's not uncommon to see beaded bracelets and anklets worn by all genders, silver and gold chains adorned with a beaded centre design, or randomly stationed beads and rondelles. These pieces are made and marketed in several areas of retail, but, generally, they are a smart choice for jewellery retailers to keep stocked in their showcase.
For retailers interested in carrying beads and unsure of where to start, begin with something minimalistic and elegant. These pieces are versatile enough for even the most skeptic consumer, serving as ideal occasional wear to complement an outfit or a mood.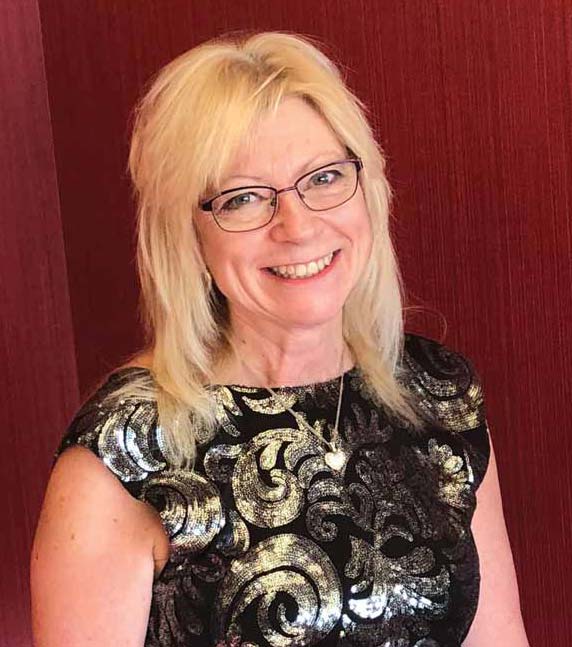 Sonja Sanders grew up in a jewellery industry family and learned goldsmithing and gem appreciation as a teenager. She now operates her family's jewellery business with her husband, Joe, and two of their children—the store's third generation. She is a master goldsmith, Graduate Gemmologist with the Gemological Institute of America (GIA), and teaches appraisal courses in Toronto. Sanders is the author of the Professional Jewellery Appraisal course (PJA). She enjoyed many years with the Canadian Jewellers Association (CJA) board and on its Accredited Appraiser committee. She is a lover of antiques and estate jewellery and can be contacted at shopwithsonja@bellnet.ca or pjaconnect@gmail.com.