The first cut is the deepest: Adding the personal touch with hand engraving
by charlene_voisin | May 1, 2015 9:00 am
By Llyn L. Strelau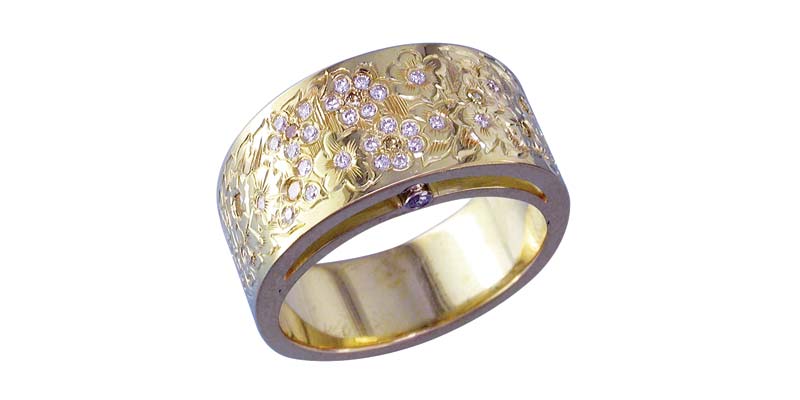 [1]
Hand engraving is one of the most effective ways to personalize a piece of jewellery. While it can be used simply as a decorative technique to accent a design, it can also provide a high degree of personalization to suit any client.
These days, an artist who is proficient in the art of hand engraving is not easy to find. Many of the old masters no longer work and few craftsmen have the technical and artistic ability, as well as the patience, required for this painstaking task. That said, it is possible in some applications for a good wax worker to carve low relief or intaglio motifs that are then cast. Even CAD has its place in the creative toolbox, while machine or laser engraving is adequate for some purposes.
However, the fluidity, finesse, crisp detail, and accuracy achieved by the hand of a master wielding a sharp polished piece of hardened steel can be quite astonishing.
Wedding jewellery
Match up
Classics revisited
Attention to detail
For the past 15 years, I have had the good fortune to work with Warren Smith of The Coast Handworks Co., a hand engraver who lives and works on a mountaintop in British Columbia's interior. Although he is classically trained, he thinks outside the box and invents new methods as needed. Discussions with him have vastly expanded the possibilities of what I can offer a client. It is satisfying to work together to take classic techniques and adapt them into fresh, modern designs. Collaborating with a good engraver can open up a new world of possibilities for your designs.
Engraved motifs can be inspired by many things, including a client's cultural background, hobbies, personal sentiments, art and industrial design, and even hobbies. Deciding on the motifs to be engraved involves the same process and level of dialogue required by any custom design. Occasionally the client comes in with an idea already formed, but more typically, they need coaching and a degree of discussion to come up with a final design. Often, these reflect the client's personality and require the designer's guidance to determine what is possible or desirable. Pencil sketches, images sourced from design books, and even the Internet can help inspire a final design. It is very useful to seek input from the engraver as well, since he or she has the expertise to know what technique or style of engraving would be the most effective for a particular purpose.
A motif may be engraved as intaglio where the design is carved down into the original surface or alternatively as cameo, a technique where the motif's background is relieved away. In many cases, a combination of the two techniques is useful, first relieving the background surfaces and then adding details by engraving into the areas left raised. More than two levels are possible, of course, resulting in low relief sculptural images, which when combined with a variety of textural and polished surface finishes, can offer a wide range of possibilities.
Sometimes a client wishes to re-use a piece of jewellery that has been passed down through their family or purchased in the secondary market. Since rings are typically worn for many years by the original owners, these estate pieces usually require significant structural restoration to make them wearable. We have frequently refurbished antique or vintage rings featuring beautiful art deco or Edwardian patterns, both eras when hand engraving was very popular. For these pieces, the engraver can work his or her magic to recreate or refresh the original surfaces.
Hand engraving can be as simple as a reminder of a couple's wedding date (hidden inside or proudly displayed on the outside) or depict messages of deeply personal significance to the wearer. Purely ornamental or used to mark milestones, the age-old techniques of hand engraving can go far beyond the traditional styles of the past and provide wide scope for design today. Let's take a look at a few examples illustrating some of the possibilities.

[13]Llyn L. Strelau is the owner of Jewels by Design, a designer-goldsmith studio in Calgary established in 1984. His firm specializes in custom jewellery design for a local and international clientele. Strelau has received numerous design awards, including the American Gem Trade Association's (AGTA's) Spectrum Awards and De Beers' Beyond Tradition—A Celebration of Canadian Craft. His work has also been published in Masters: Gemstones, Major Works by Leading Jewelers. Strelau can be reached via e-mail at designer@jewelsbydesign.com[14].
Endnotes:
[Image]: http://www.jewellerybusiness.com/wp-content/uploads/2015/12/DSCN3062.jpg
[Image]: http://www.jewellerybusiness.com/wp-content/uploads/2015/12/DSCN3548.jpg
[Image]: http://www.jewellerybusiness.com/wp-content/uploads/2015/12/custus-sapphire-2.jpg
[Image]: http://www.jewellerybusiness.com/wp-content/uploads/2015/12/woima-sherry-bands.jpg
[Image]: http://www.jewellerybusiness.com/wp-content/uploads/2015/12/JBD1221.jpg
[Image]: http://www.jewellerybusiness.com/wp-content/uploads/2015/12/DSCN2127.jpg
[Image]: http://www.jewellerybusiness.com/wp-content/uploads/2015/12/reader-andrew-wedding-band-with-e-ring.jpg
[Image]: http://www.jewellerybusiness.com/wp-content/uploads/2015/12/DSCN3147.jpg
[Image]: http://www.jewellerybusiness.com/wp-content/uploads/2015/12/DSCN2237.jpg
[Image]: http://www.jewellerybusiness.com/wp-content/uploads/2015/12/DSCN1925DSCN2756.jpg
[Image]: http://www.jewellerybusiness.com/wp-content/uploads/2015/12/mckeen-grad-ring.jpg
[Image]: http://www.jewellerybusiness.com/wp-content/uploads/2015/12/steelsignetcrest_revised_wshadow_nc.jpg
[Image]: http://www.jewellerybusiness.com/wp-content/uploads/2015/11/Llyn-Strelau-e1447864674717.jpg
designer@jewelsbydesign.com: mailto:designer@jewelsbydesign.com
Source URL: https://www.jewellerybusiness.com/features/the-first-cut-is-the-deepest-adding-the-personal-touch-with-hand-engraving/
---