By Jacquie De Almeida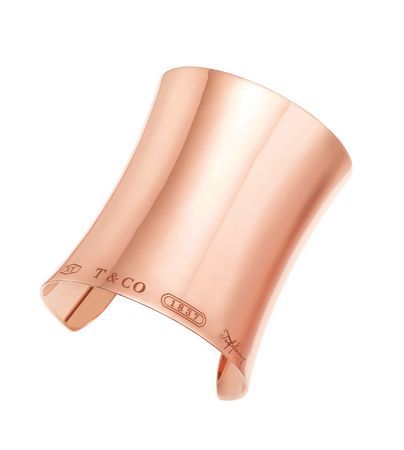 The robin egg blue-coloured box wrapped with a just-so white ribbon conveys the words 'I love you' even before revealing the jewellery it holds inside. And it's been doing that for the better part of 175 years.
When Charles Lewis Tiffany and John B. Young founded their stationary and fancy goods store in New York City in 1837, it's a pretty safe bet they had no idea they were laying the foundation for what would become one of the most successful luxury brands in the world, or a company that in the second quarter of this year saw worldwide net sales of $887 million. Not bad, considering the partners' first-day take came to just $4.98, worth a mere $125.86 today.
From that one store on Broadway came more than 250 around the world, including the newest Canadian location at Toronto's Sherway Gardens, which swung open its iconic stainless steel doors Oct. 12.
The new store helped cap off a year of celebrations that also saw the Tiffany Diamond—all 128.54 carats of it—set in a diamond and platinum necklace and sent on a whirlwind tour, making stops in Tokyo, Beijing, and Dubai, before returning to New York City. Cut from rough weighing 287.42 carats, the yellow diamond was discovered in South Africa's Kimberley mine in 1877. Upon purchasing the stone, Tiffany became known as the 'King of Diamonds' and his company a diamond authority.
So what does it take to succeed where so many others have not?
"Tiffany celebrated its 175th anniversary this September and reached this milestone by staying true to our founder's philosophy of offering extraordinary, exclusive designs using the finest materials and craftsmanship–designs to be enjoyed for generations," says Andrea Hopson, vice-president of Tiffany & Co. Canada.
"Charles Tiffany would be thrilled to see the company he founded reach a truly global audience with all the qualities he established in 1837 related to exquisite design, materials, and craftsmanship, and a focus on celebrating and commemorating life's small and large occasions."
Celebrating life's important moments is not solely for the consumer. Tiffany itself commemorated its 175th by creating Rubedo, a blush-colour alloy. Described as "the glow of first light," Rubedo comprises mostly copper (55 per cent) mixed with gold, silver, and zinc. It's a formula that puts it below the threshold to be stamped either gold or silver, and instead, each piece is inscribed with Charles Tiffany's signature. Hopson describes the alloy as being in a category all its own.
"Rubedo holds a unique place in metallurgy, as it combines much-admired metals resulting in a truly unique and lustrous rosy hue," Hopson tells Jewellery Business. "Rubedo bridges a gap between the worlds of silver and gold, and has been overwhelmingly embraced and recognized for its unique beauty and properties, and as a perfect complement to the 1837 Collection."
Although it's welcomed a third store to Toronto, Hopson says Canada is still underserved and the company is looking to continue its expansion into new and existing markets across the country. At last count, Tiffany operates a store in both Calgary and Montreal, along with two in Vancouver. Four additional locations in Holt Renfrew stores in Calgary, Edmonton, Montreal, and Ottawa bring the grand total for Canada to 11.
"Our freestanding locations across Canada serve as a complement to our e-commerce and business-to-business channels, as we seek to serve and celebrate with Canadians across the country," Hopson adds. "We also seek to align with key charities and community agencies in an effort to support and enrich the important work they do.
"We feel so proud and privileged to bring the Tiffany brand to Canadians and appreciate the continued opportunity to be a significant partner in the celebration of life's small and large occasions."
And there's nothing like a little Tiffany blue to put a sparkle in that special someone's eye.