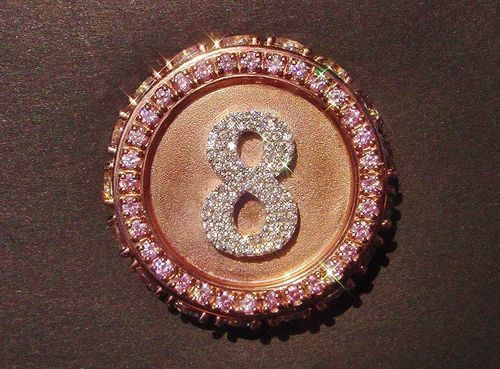 By Jacquie De Almeida
Gerald Lewy is placing his bet on pink—pink diamonds, that is, and 5.13 carats of them to be exact.
After three years and several design obstacles to overcome, Lewy's one-of-a-kind 22-karat gold and diamond poker chip now sits safely in a silicone box, its Guinness World Records certificate nearby stating it is the most valuable chip at an appraised price of $450,000.
The Toronto-based gem setter sees it as his greatest accomplishment, both in execution and recognition.
"This proves many things—it is never too late to create an exceptional 'piece of art,'" the 70-year-old tells Jewellery Business. "And as I am dyslexic, this is also an achievement for those who have this 'ability.' I don't see it as a disability."
The road to the world record began a few years back at the Tucson gem shows, after a friend gave Lewy a poker chip. Deciding it looked a little dull, he came up with the idea to design a chip of his own, only with a whole lot more sparkle.
He was careful not just in the chip's technical execution, but in its message. One side indicates lucky number '7,' while the other shows an '8,' which in Cantonese sounds similar to the word for 'fortune.' The use of eight-pointers on the chip's edge is another detail to enforce the idea of good luck.
While the sparkle of its pink and white diamonds may overshadow its construction, Lewy says he's proud of the work that went into the setting work. To achieve the raised numbers, a bench jeweller drilled holes into the metal to accommodate prongs, allowing a 3-D effect rather than the flat appearance of pavé-set stones. A laser welder made quick work of securing the prongs and avoided the use of solder.
Although designed with a '7' and '8,' Lewy is quite happy to change up the numbers and diamond quality to suit a buyer's preference, which will either raise or lower his asking price of $290,000.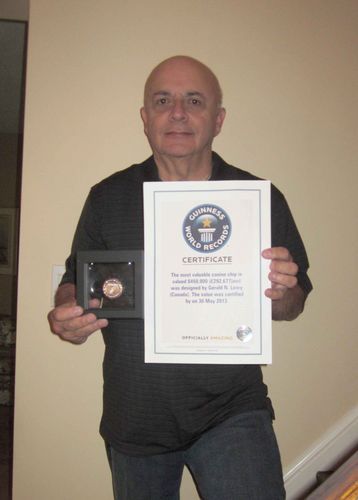 "The pre-drilled holes that hold the prongs can easily be adjusted to fit another number," he says, adding he set the stones on the chip himself.
"When [the representative of] Guinness World Records saw it, he said it was a one-of-a-kind. To make a piece like this is quite special."
Although there is no guarantee the chip will make it to Guinness World Records' website, Lewy's hoping his design will bring him good luck and make an appearance. If that doesn't happen, he's not totally disappointed, though.
"At least I've got my certificate," he said. "That's all I need."